Loneliness of Older People and Elements of an Intervention for its Alleviation
Savikko, Niina (2008-08-15)
---
Loneliness of Older People and Elements of an Intervention for its Alleviation
(15.08.2008)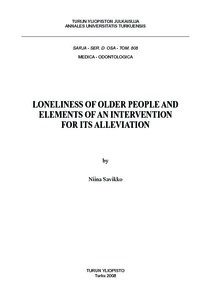 Turun yliopisto
Julkaisun pysyvä osoite on:
https://urn.fi/URN:ISBN:978-951-29-3607-6
Kuvaus
Siirretty Doriasta
Tiivistelmä
Loneliness is common among older people and nurses have limited means to alleviate it. The study was in two parts. In phase I, the aim was to acquire information about the concept of loneliness, its relationship with social isolation and a global feeling of insecurity, and to acquire information on the prevalence of community-dwelling older people's (≥75 years) loneliness, its associated characteristics and subjective causes. In phase II, the aim was to identify the essential elements of the psychosocial group rehabilitation (PGR) intervention which was developed to alleviate older people's loneliness and to describe the experiences of the PGR participants.
The data in phase I were gathered using a postal questionnaire sent to a random sample (N=6 786) of older people in various parts of Finland. The number of returned questionnaires was 4 113, and the response rate for community-dwelling older people was 72%. The respondents' mean age was 81 years and 69% were women. The data in phase II consisted of the diaries written by the PGR intervention group leaders (N=14), researchers free observations (N=32), notes on the group activity and a feedback questionnaire filled in by participants (N=103) after the PGR intervention.
The findings showed that there was a distinction between loneliness, social isolation and a global feeling of insecurity. Of the respondents, 39% suffered from loneliness at least sometimes. Several demographic and health-related factors, dimensions of psychological well-being, as well as expectations related to social contacts were associated with loneliness. Losing one's parents in childhood was not associated with loneliness experienced in old age. Several causes of loneliness were mentioned. Several elements were considered essential in the PGR intervention aimed at alleviating the loneliness of older people. These elements were divided into a) predetermined elements, b) favourable processes between and within the participants, and c) mediating factors. The predetermined elements were further divided into the factors related to the group participants, group leaders, and group activities. The PGR intervention participants found the groups very meaningful, with 95% feeling that their loneliness was alleviated during the PGR intervention.
Recognizing the loneliness of older people poses a challenge for nurses. The detailed description of the PGR intervention helps nurses to identify the elements that may alleviate older people's loneliness.