Social Cognition and Behavior in Relationship Context
Peets, Kätlin (2008-08-23)
---
Social Cognition and Behavior in Relationship Context
(23.08.2008)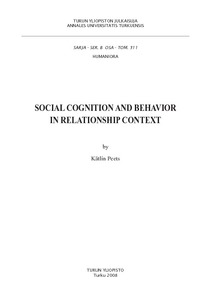 Turun yliopisto
Julkaisun pysyvä osoite on:
https://urn.fi/URN:ISBN:978-951-29-3615-1
Kuvaus
Siirretty Doriasta
Tiivistelmä
Social information processing (SIP; Crick & Dodge, 1994) and social-cognitive learning theories have been often used to understand children's problem behaviors, such as aggression. According to these theories, children's thinking guides their subsequent behaviors. Although most of us agree that social behavior and underlying thought processes are context-dependent, personality and social development researchers have usually engaged in searching for stable patterns of dispositions and behaviors, ignoring (or treating as error) the variance across different situations and relationship types. This, however, can result in erroneous conclusions and question the interpretation of previous findings. Four studies were conducted to explore the influence of relationship context on children's social-cognitive evaluations and behavior. Samples were fourth to sixth graders from Estonia and Finland. Social cognitions were assessed by presenting children with hypothetical vignettes where the previously identified relationship partner's behavior had a negative consequence for the child (Studies I, II, and IV), followed by questions measuring different social-cognitive processes (e.g., hostile attributions, behavioral strategies, outcome expectations and self-efficacy beliefs for aggression). In addition, in Studies II and IV, children provided information about their behavior within a specific relationship context. In Study III, an affective priming paradigm was employed where participants were presented with a short display of photographs of children's liked and disliked classmates, and unknown peers. The results of this thesis suggest that children's thinking and behavior are largely influenced by the affective valence of the relationship. Moreover, cognitions guide behavior within the relationship. The current findings offer a fruitful avenue for studying the heterogeneity of peer interactions.