Fiber-reinforced Composite as Oral Implant Material. Experimental studies of glass fiber and bioactive glass in vitro and in vivo
Ballo, Ahmed (2008-08-15)
---
Fiber-reinforced Composite as Oral Implant Material. Experimental studies of glass fiber and bioactive glass in vitro and in vivo
(15.08.2008)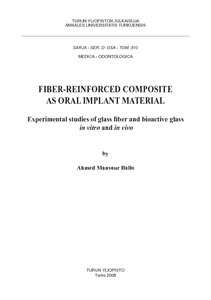 Turun yliopisto
Julkaisun pysyvä osoite on:
https://urn.fi/URN:ISBN:978-951-29-3631-1
Kuvaus
Siirretty Doriasta
Tiivistelmä
Fiber-reinforced composite as oral implant material: Experimental studies of glass fiber and bioactive glass in vitro and in vivo
Department of Prosthetic Dentistry and Biomaterials Science, Institute of Dentistry, University of Turku, Turku, Finland 2008.
Biocompatibility and mechanical properties are important variables that need to be determined when new materials are considered for medical implants. Special emphasis was placed on these characteristics in the present work, which aimed to investigate the potential of fiber-reinforced composite (FRC) material as an oral implant. Furthermore, the purpose of this study was to explore the effect of bioactive glass (BAG) on osseointegration of FRC implants.
The biocompatibility and mechanical properties of FRC implants were studied both in vitro and in vivo. The mechanical properties of the bulk FRC implant were tested with a cantilever bending test, torsional test and push-out test. The biocompatibility was first evaluated with osteoblast cells cultured on FRC substrates. Bone bonding was determined with the mechanical push-out test and histological as well as histomorplanimetric evaluation. Implant surface was characterized with SEM and EDS analysis.
The results of these studies showed that FRC implants can withstand the static load values comparably to titanium. Threaded FRC implants had significantly higher push-out strength than the threaded titanium implants.
Cell culture study revealed no cytotoxic effect of FRC materials on the osteoblast-like-cells. Addition of BAG particles enhanced cell proliferation and mineralization of the FRC substrates
The in vivo study showed that FRC implants can withstand static loading until failure without fracture. The results also suggest that the FRC implant is biocompatible in bone. The biological behavior of FRC was comparable to that of titanium after 4 and 12 weeks of implantation. Furthermore, addition of BAG to FRC implant increases peri-implant osteogenesis and bone maturation.