The Changing Face of Psychiatric Nursing –Care or Control?
Välimäki, M, Scott A, Lahti M & Chambers M (eds.) (2008-08-21)
---
The Changing Face of Psychiatric Nursing –Care or Control?
Välimäki, M, Scott A, Lahti M & Chambers M (eds.)
Toimittajat
Välimäki, M.
(21.08.2008)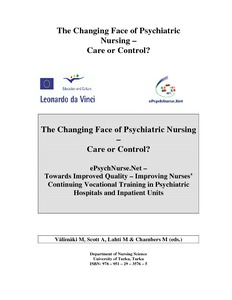 Turun yliopisto
Kuvaus
Siirretty Doriasta
Tiivistelmä
This report has been written as part of the project "Toward improved quality – developing nurse's continuing vocational training in hospitals and inpatient units". Its overall goal is to ensure high quality, ethically appropriate and therapeutically effective interventions to enable nurses to manage distressed and disturbed patients in European psychiatric hospitals and inpatient units. In this large-scale, multinational projects there are all together six European countries involved: Finland, Ireland, England, Portugal, Italy and Lithuania. The project work plan were during autumn 2006 and spring 2007.

The content of this publication was produced in the first stage of the project aiming to collect the preliminary source material for the project. The literature review was carried out in the project stage, providing the groundwork for the next steps for the project. This project aims to develop an interactive multinational portal with training material. Therefore, it is important to share an understanding of basic information, psychiatric nurse's continuing vocational education, laws and ethical codes and patient restriction used in mental health care. In this publication, the purpose of the material produced here is to understand nurses' educational need related to vocational continuing education and to be used in further project stages as an empirical data collection. The data were collected as a preliminary source material for latter phases where nurse's perceptions of the current practice, nurse's attitudes to mental illness, prevalence of use of seclusion room and existing and desired vocational training provision will be collected in six different European countries.

The following organisations are involved in this project: University of Turku, Dublin City University, St. Vincent Hospital, National Council for the Professional Development of Nursing and Midwifery, University of Padova, Klaipeda College - Health Faculty, Klaipeda Psychiatric Hospital, Escola Superior de Enfermagem de Lisboa, Centro Hospitalar Psiquiátrico de Lisboa, Omnia Vocational Institution the Espoo Region, Kellokoski psychiatric hospital, Hyvinkää hospital area, Pirkanmaa Hospital District, Kingston University & St. George's Medical School and South West London & St. George's Mental Health NHS Trust. A wide variety of different countries, organisations and individuals in this project give us a strong confidence that theoretical, practical, ethical and political issues around the topic of interest will be taken account during this project lifetime.

We are aware the content of this book will be partially outdated almost as soon as it has been published. We still hope that this publication will encourage nurses and different professions working in mental health care field to have a basic understanding of similarities and differences between different European countries related in mental health care. We also hope that this publication will inspirate and motivate nurses in maintaining and developing the quality of psychiatric care in Europe.