Childhood community-acquired pneumonia
Lahti, Elina (2008-09-27)
---
Childhood community-acquired pneumonia
(27.09.2008)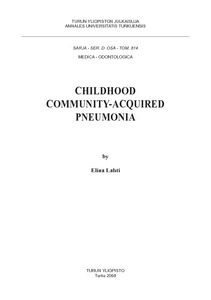 Turun yliopisto
Julkaisun pysyvä osoite on:
https://urn.fi/URN:ISBN:978-951-29-3668-7
Kuvaus
Siirretty Doriasta
Tiivistelmä
Background: Community-acquired pneumonia is a leading cause of morbidity and mortality in children worldwide. New, rapid methods are needed to improve the microbiologic diagnosis of pneumonia in clinical practice. The increasing incidence of parapneumonic empyema in children accentuates the importance of the identification of the causative agent and clinical predictors of empyema.

Aims and methods: Two prospective studies were conducted to find feasible diagnostic methods for the detection of causative agents of pneumonia. The usefulness of pneumolysin-targeted real-time PCR in the diagnosis of pneumococcal disease was studied in children with pneumonia and empyema, and the clinical utility of induced sputum analysis in the microbiologic diagnosis of pneumonia was investigated in children with pneumonia. In addition, two retrospective clinical studies were performed to describe the frequency and clinical profile of influenza pneumonia in children and the frequency, clinical profile and clinical predictors of empyema in children.

Results: Pneumolysin-PCR in pleural fluid significantly improved the microbiologic diagnosis of empyema by increasing the detection rate of pneumococcus almost tenfold to that of pleural fluid culture (75 % vs. 8 %). In whole blood samples, PCR detected pneumococcus in only one child with pneumonia and one child with pneumococcal empyema. Sputum induction provided good-quality sputum specimens with high microbiologic yield. Streptococcus pneumoniae (46 %) and rhinovirus (29 %) were the most common microbes detected. The quantification results of the paired sputum and nasopharyngeal aspirate specimens provided support that the majority of the bacteria (79 %) and viruses (55 %) found in sputum originated from the lower airways. Pneumonia was detected in 14 % of children with influenza infection. A history of prolonged duration of fever, tachypnea, and pain on abdominal palpation were found to be independently significant predictors of empyema.

Conclusions: Pneumolysin-targeted real-time PCR is a useful and rapid method for the diagnosis of pneumococcal empyema in children. Induced sputum analysis with paired nasopharyngeal aspirate analysis can be of clinical value in the microbiologic diagnosis of pneumonia. Influenza pneumonia is an infrequent and generally benign disease in children with rare fatalities. Repeat chest radiograph and ultrasound imaging are recommended in children with pneumonia presenting with clinical predictors of empyema and in children with persistent fever and high CRP levels during hospitalization.