Epidemiological studies of childhood and adolescence headache
Virtanen, Ruut (2008-10-17)
---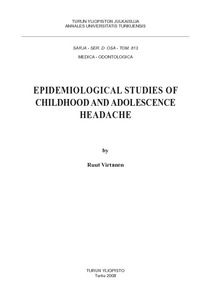 Turun yliopisto
17.10.2008
Julkaisun pysyvä osoite on:
http://urn.fi/URN:ISBN:978-951-29-3664-9
Kuvaus
Siirretty Doriasta
Tiivistelmä
The main purpose of this study was to examine the changes in the prevalence, incidence, and characteristics of headache in childhood and adolescence. In addition, the predictors of the change in the occurrence of childhood headache and the association between adolescent headache and behavior were studied.

The occurrence and characteristics of headache were investigated as part of a prospective follow-up study, where 6-year-old children and their families (n=1132) were followed to the age of 12-years (n=1126). The study design entailed both a cohort and case-control group. The incidence of headache and the association between headache and behavior were studied in another cohort, consisting of 11-year-old twins (n=5393), who were followed to the age of 17 (n=4159).

The prevalence rates of headache increased during the follow-up, especially in boys whose mothers suffered from frequent headache. The incidence rates of frequent headache changed the most in girls between ages of 11 and 14. Early-onset migraine and tension-type headache were equal predictors of migraine at age 12. The age-related changes observed in pain localization, concurrent symptoms and triggers were considerable. Headache frequency was significantly associated with externalizing and internalizing problem behaviors and adaptive behaviors as rated by parents, but only with externalizing problem behaviors as rated by teachers.

Headache both in children and adolescents is characterized by its changing nature. Its prevention and treatment should take familial, environmental and psychosocial aspects into account.