The effects of ICT on school: teachers' and students' perspectives
Ilomäki, Liisa (2008-10-17)
---
The effects of ICT on school: teachers' and students' perspectives
(17.10.2008)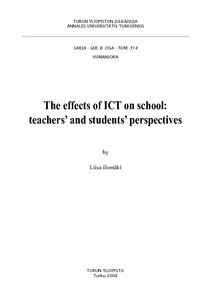 Turun yliopisto
Julkaisun pysyvä osoite on:
https://urn.fi/URN:ISBN:978-951-29-3684-7
Kuvaus
Siirretty Doriasta
Tiivistelmä
The purpose of this study was to investigate the effects of information and communication technology (ICT) on school from teachers' and students' perspectives. The focus was on three main subject matters: on ICT use and competence, on teacher and school community, and on learning environment and teaching practices. The study is closely connected to the national educational policy which has aimed strongly at supporting the implementation of ICT in pedagogical practices at all institutional levels.

The phenomena were investigated using a mixed methods approach. The qualitative data from three cases studies and the quantitative data from three statistical studies were combined. In this study, mixed methods were used to investigate the complex phenomena from various stakeholders' points of view, and to support validation by combining different perspectives in order to give a fuller and more complete picture of the phenomena. The data were used in a complementary manner.

The results indicate that the technical resources for using ICT both at school and at homes are very good. In general, students are capable and motivated users of new technology; these skills and attitudes are mainly based on home resources and leisuretime use. Students have the skills to use new kinds of applications and new forms of technology, and their ICT skills are wide, although not necessarily adequate; the working habits might be ineffective and even wrong. Some students have a special kind of ICT-related adaptive expertise which develops in a beneficial interaction between school guidance and challenges, and individual interest and activity. Teachers' skills are more heterogeneous. The large majority of teachers have sufficient skills for everyday and routine working practices, but many of them still have difficulties in finding a meaningful pedagogical use for technology. The intensive case study indicated that for the majority of teachers the intensive ICT projects offer a possibility for learning new skills and competences intertwined in the work, often also supported by external experts and a collaborative teacher community; a possibility that "ordinary" teachers usually do not have. Further, teachers' good ICT competence help them to adopt new pedagogical practices and integrate ICT in a meaningful way.

The genders differ in their use of and skills in ICT: males show better skills especially in purely technical issues also in schools and classrooms, whereas female students and younger female teachers use ICT in their ordinary practices quite naturally. With time, the technology has become less technical and its communication and creation affordances have become stronger, easier to use, more popular and motivating, all of which has increased female interest in the technology.

There is a generation gap in ICT use and competence between teachers and students. This is apparent especially in the ICT-related pedagogical practices in the majority of schools. The new digital affordances not only replace some previous practices; the new functionalities change many of our existing conceptions, values, attitudes and practices. The very different conceptions that generations have about technology leads, in the worst case, to a digital gap in education; the technology used in school is boring and ineffective compared to the ICT use outside school, and it does not provide the competence needed for using advanced technology in learning.

The results indicate that in schools which have special ICT projects ("ICT pilot schools") for improving pedagogy, these have led to true changes in teaching practices. Many teachers adopted student-centred and collaborative, inquiry-oriented teaching practices as well as practices that supported students' authentic activities, independent work, knowledge building, and students' responsibility. This is, indeed, strongly dependent on the ICT-related pedagogical competence of the teacher. However, the daily practices of some teachers still reflected a rather traditional teacher-centred approach. As a matter of fact, very few teachers ever represented solely, e.g. the knowledge building approach; teachers used various approaches or mixed them, based on the situation, teaching and learning goals, and on their pedagogical and technical competence. In general, changes towards pedagogical improvements even in wellorganised developmental projects are slow. As a result, there are two kinds of ICT stories: successful "ICT pilot schools" with pedagogical innovations related to ICT and with school community level agreement about the visions and aims, and "ordinary schools", which have no particular interest in or external support for using ICT for improvement, and in which ICT is used in a more routine way, and as a tool for individual teachers, not for the school community.