Effects of Cytochrome P450 Enzyme Inhibitors on the Pharmacokinetics of Nonsteroidal Anti-inflammatory Drugs and Venlafaxine
Hynninen, Ville-Veikko (2008-10-25)
---
Effects of Cytochrome P450 Enzyme Inhibitors on the Pharmacokinetics of Nonsteroidal Anti-inflammatory Drugs and Venlafaxine
(25.10.2008)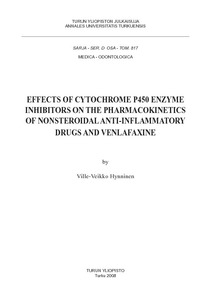 Turun yliopisto
Julkaisun pysyvä osoite on:
https://urn.fi/URN:ISBN:978-951-29-3688-5
Kuvaus
Siirretty Doriasta
Tiivistelmä
Cytochrome P450 (CYP) enzymes play a pivotal role in the metabolism of many drugs. Inhibition of CYP enzymes usually increases the plasma concentrations of their substrate drugs and can thus alter the safety and efficacy of these drugs. The metabolism of many widely used nonsteroidal antiinflammatory drugs (NSAIDs) as well as the metabolism of the antidepressant venlafaxine is nown to be catalyzed by CYP enzymes. In the present studies, the effect of CYP inhibition on the armacokinetics and pharmacodynamics of NSAIDs and venlafaxine was studied in clinical trials with healthy volunteers and with a crossover design, by using different antifungal agents as CYP inhibitors.

The results of these studies demonstrate that the inhibition of CYP enzymes leads to increased concentrations of NSAIDs. In most cases, the exposure to ibuprofen, diclofenac, etoricoxib, and meloxicam was increased 1.5to 2 fold when they were used concomitantly with antifungal agents. CYP2D6 inhibitor, terbinafine, substantially increased the concentration of parent venlafaxine, whereas the concentration of active moiety of venlafaxine (parent drug plus active metabolite) was only slightly increased. Voriconazole, an inhibitor of the minor metabolic pathway of venlafaxine, produced only minor changes in the pharmacokinetics of venlafaxine.

These studies show that an evident increase in the concentrations of NSAIDs may be expected, if they are used concomitantly with CYP inhibitors. However, as NSAIDs are generally well tolerated, use of single doses of NSAIDs concomitantly with CYP inhibitors is not likely to adversely affect patient safety, whereas clinical relevance of longterm concomitant use of NSAIDs with CYP inhibitors needs further investigation. CYP2D6 inhibitors considerably affect the pharmacokinetics of venlafaxine, but the clinical significance of this interaction remains unclear.