Regulating Mechanisms of Gonadal and Pituitary Tumorigenesis in Mice Producing Human Chorionic Gonadotropin
Ahtiainen, Petteri (2008-10-25)
---
Regulating Mechanisms of Gonadal and Pituitary Tumorigenesis in Mice Producing Human Chorionic Gonadotropin
(25.10.2008)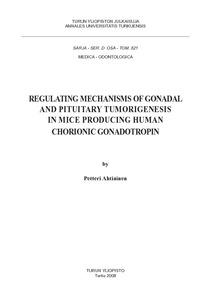 Turun yliopisto
Julkaisun pysyvä osoite on:
https://urn.fi/URN:ISBN:978-951-29-3698-4
Kuvaus
Siirretty Doriasta
Tiivistelmä
Human chorionic gonadotropin (hCG) and luteinizing hormone (LH) are structurally and functionally similar glycoprotein hormones acting through the same luteinizing hormone chorionic gonadotropin receptor (LHCGR). The functions of LH in reproduction and hCG in pregnancy are well known. Recently, the expression of LHCGR has been found in many nongonadal tissues and cancers, and this has raised the question of whether LH/hCG could affect the function or tumorigenesis of these nongonadal tissues. We have also previously generated an hCG expressing mouse model presenting nongonadal phenotypes. Using this model it is possible to improve our understanding of nongonadal action of highly elevated LH/hCG.

In the current study, we analyzed the effect of moderately and highly elevated hCG levels on male reproductive development and function. The main finding was the appearance of fetal Leydig cell (FLC) adenomas in prepubertal males. However, the development and differentiation of FLCs were not significantly affected. We also show that the function of hCG is different in FLCs and in adult Leydig cells (ALC), because in the latter cells hCG was not able to induce tumorigenesis. In FLCs, LHCGR is not desensitized or downregulated upon ligand binding. In this study, we found that the testicular expression of two G protein-coupled receptor kinases responsible for receptor desensitization or downregulation is increased in adult testis. Results suggest that the lack of LHCGR desensitization or downregulation in FLCs protect testosterone (Te) synthesis, but also predispose FLCs for LH/hCG induced adenomas. However, all the hCG induced nongonadal changes observed in male mice were possible to explain by the elevated Te level found in these males. Our findings indicate that the direct nongonadal effects of elevated LH/hCG in males are not pathophysiologically significant.

In female mice, we showed that an elevated hCG level was able to induce gonadal tumorigenesis. hCG also induced the formation of pituitary adenomas (PA), but the mechanism was indirect. Furthermore, we found two new potential risk factors and a novel hormonally induced mechanism for PAs. Increased progesterone (P) levels in the presence of physiological estradiol (E2) levels induced the formation of PAs in female mice. E2 and P induced the expression and nuclear localization of a known cell-cycle regulator, cyclin D1. A calorie restricted diet was also able to prevent the formation of PAs, suggesting that obesity is able to promote the formation of PAs. Hormone replacement therapy after gonadectomy and hormone antagonist therapy showed that the nongonadal phenotypes observed in hCG expressing female mice were due to ovarian hyperstimulation. A slight adrenal phenotype was evident even after gonadectomy in hCG expressing females, but E2 and P replacement was able to induce a similar phenotype in WT females without elevated LH/hCG action.

In conclusion, we showed that the direct effects of elevated hCG/LH action are limited only to the gonads of both sexes. The nongonadal phenotypes observed in hCG expressing mice were due to the indirect, gonadal hormone mediated effects of elevated hCG. Therefore, the gonads are the only physiologically significant direct targets of LHCGR signalling.