Brain imaging studies in severe somatization
Hakala, Mika (2008-11-07)
---
Brain imaging studies in severe somatization
(07.11.2008)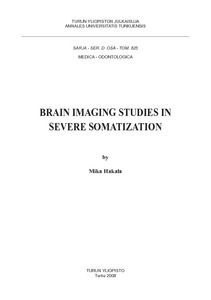 Turun yliopisto
Julkaisun pysyvä osoite on:
https://urn.fi/URN:ISBN:978-951-29-3716-5
Kuvaus
Siirretty Doriasta
Tiivistelmä
Somatization was described 4000 years ago but the pathophysiology of the, phenomenon is unknown.

The aim of this investigation was to explore whether central nervous system (CNS) pathology is associated with severe somatization which was operationalized as somatization disorder (SD) and undifferentiated somatoform disorder. The study sample consisted of severely somatizing people who were included into the study after a multi-phase screening procedure in order to exclude psychiatric comorbidities and physical illnesses. Diagnosis of somatization disorder or undifferentiated sofatoform disorder were set according to Diagnostic and Statistical Manual of Mental Disorders 4th ed. (DSM-IV).

The first study explored the regional cerebral metabolic rate of glucose (rCMRGlc) in severely somatizing females and found it to be reduced in several regions of the brain compared to healthy controls. The second study observed brain morphology with magnetic resonance imaging (MRI) based on the findings from the first study and showed enlarged caudate nuclei in somatizing women compared to healthy volunteers. The third study investigated temperament factors and brain metabolism, and their association with severe somatization. Low caudate and putamen metabolism, low novelty seeking as well as high harm avoidance were found to be associated with severe somatization in women, reduced caudate metabolism having the strongest association. The last study is a report of man with left-side gradient of multiple symptoms of unknown origin in the body. The examination revealed a hypermetabolic nucleus putamen on the contralateral side. All the main results reported in these four articles are original findings.

The results suggest that CNS pathology is involved in the pathophysiology of severe somatization.