Treatment-related renal side-effects in pediatric cancer patients
Grönroos, Marika (2008-11-15)
---
Treatment-related renal side-effects in pediatric cancer patients
(15.11.2008)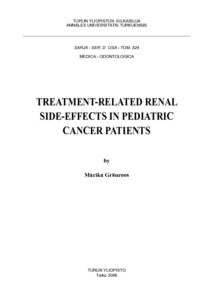 Turun yliopisto
Julkaisun pysyvä osoite on:
https://urn.fi/URN:ISBN:978-951-29-3710-3
Kuvaus
Siirretty Doriasta
Tiivistelmä
Background: The long-term side-effects of cancer treatments are of growing importance, since the number of pediatric cancer survivors has considerably increased. Renal side-effects should be noted early to prevent further deterioration. Renal dysfunction may also develop long after cancer treatment. Easy and reliable methods for assessing renal function are needed.

Aims: The aims were to find the mechanisms behind methotrexate-induced renal damage by studying renal tubular cells (LLC-PK1cells), and to evaluate the usefulness of laboratory tests in assessing glomerular function in pediatric cancer patients by comparing an isotope clearance method with alternative methods. The aim was also to study the long-term effects of bone marrow transplantation (BMT) and high-dose methotrexate (HD-MTX) treatment in renal function.

Results: Methotrexate induced time-dependent renal tubular cell swelling and cell death. In patients treated with HD-MTX a significant decrease in GFR was noted after a follow-up time of one to ten years. One year after BMTthe GFR was reduced, especially in patients treated with total body irradiation (TBI). GFR recovered slightly but remained stable thereafter. In glomerular function assessment the serum cystatin C (cysC) concentration showed a significant association with GFR measured by the isotope method.

Conclusions: Methotrexate induced acute damage in renal tubular cells. In assessing GFR the isotope method still remains the method of choice, but the assay of cystatin C was the most reliable of other alternatives. Long-term follow-up of renal function is needed in BMT patients and patients treated with HD-MTX.