Clinically occult metastases in patients with cutaneous melanoma. Detection with sentinel lymph node biopsy and whole body positron emission tomography
Koskivuo, Ilkka (2008-12-05)
---
Clinically occult metastases in patients with cutaneous melanoma. Detection with sentinel lymph node biopsy and whole body positron emission tomography
(05.12.2008)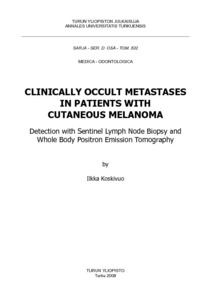 Turun yliopisto
Julkaisun pysyvä osoite on:
https://urn.fi/URN:ISBN:978-951-29-3751-6
Kuvaus
Siirretty Doriasta
Tiivistelmä
Objective: The aim of this study was to investigate the use of sentinel lymph node biopsy (SLNB) and whole body positron emission tomography (PET), with emphasis on surgical treatment and prognosis, in the detection of clinically occult metastases in patients with clinically localized cutaneous melanoma.

Patients and methods: The study population consisted of 1255 patients with clinical stage I–II cutaneous melanoma, operated at Turku University Hospital between 1983 and 2007. 334 patients underwent SLNB and they were compared to 921 retrospective patients. A subgroup of 30 symptom-free patients with high risk melanoma underwent prospectively whole body PET 6–24 months postoperatively.

Results: Overall, the disease-specific survival rate was 84.4 % at five years. Sex, Breslow thickness, age and nodal status were independent prognostic factors for survival. SLNB revealed occult nodal metastases in 17 % of the patients. There was no significant difference in disease-specific overall survival between SLNB patients and controls, but the nodal disease-free time was significantly longer suggesting better local control after SLNB and subsequent completion lymph node dissection. The followup time was different between the study cohorts and initial surgery was performed during different time periods. SLNB detected micrometastases in seven of 155 patients (4.5 %) with thin T1 primary melanoma and in four of 25 patients (16 %) with head and neck melanoma. In six of 30 asymptomatic patients with high risk melanoma (20 %), whole body PET detected occult distant metastases.

Conclusion: Both SLNB and whole body PET were reliable methods to detect clinically occult metastases in patients with cutaneous melanoma. This upstaging altered the treatment in each case.