Surface Studies of Thiolate Adsorbates on Some Metals
Laiho, Taina (2008-12-05)
---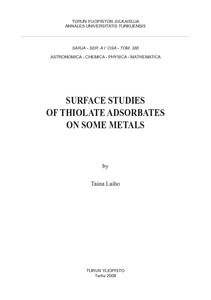 Turun yliopisto
05.12.2008
Julkaisun pysyvä osoite on:
http://urn.fi/URN:ISBN:978-951-29-3741-7
Kuvaus
Siirretty Doriasta
Tiivistelmä
The results and discussions in this thesis are based on my studies about selfassembled thiol layers on gold, platinum, silver and copper surfaces. These kinds of layers are two-dimensional, one molecule thick and covalently organized at the surface. They are an easy way to modify surface properties. Self-assembly is today an intensive research field because of the promise it holds for producing new technology at nanoscale, the scale of atoms and molecules. These kinds of films have applications for example, in the fields of physics, biology, engineering, chemistry and computer science. Compared to the extensive literature concerning self-assembled monolayers (SAMs) on gold, little is known about the structure and properties of thiolbased SAMs on other metals. In this thesis I have focused on thiol layers on gold, platinum, silver and copper substrates. These studies can be regarded as a basic study of SAMs. Nevertheless, an understanding of the physical and chemical nature of SAMs allows the correlation between atomic structure and macroscopic properties. The results can be used as a starting point for many practical applications.

X-ray photoelectron spectroscopy (XPS) and synchrotron radiation excited high resolution photoelectron spectroscopy (HR-XPS) together with time-offlight secondary ion mass spectrometry (ToF-SIMS) were applied to investigate thin organic films formed by the spontaneous adsorption of molecules on metal surfaces. Photoelectron spectroscopy was the main method used in these studies. In photoelectron spectroscopy, the sample is irradiated with photons and emitted photoelectrons are energy-analyzed. The obtained spectra give information about the atomic composition of the surface and about the chemical state of the detected elements. It is widely used in the study of thin layers and is a very powerful tool for this purpose. Some XPS results were complemented with ToF-SIMS measurements. It provides information on the chemical composition and molecular structure of the samples.

Thiol (1-Dodecanethiol, CH3(CH2)11SH) solution was used to create SAMs on metal substrates. Uniform layers were formed on most of the studied metal surfaces. On platinum, surface aligned molecules were also detected in investigations by XPS and ToF-SIMS. The influence of radiation on the layer structure was studied, leading to the conclusion that parts of the hydrocarbon chains break off due to radiation and the rest of the layer is deformed. The results obtained showed differences depending on the substrate material. The influence of oxygen on layer formation was also studied. Thiol molecules were found to replace some of the oxygen from the metal surfaces.