Assessment of Coastal Bird Populations and Habitats on the Finnish Coast of the Baltic Sea: Implications for Monitoring and Management
Rönkä, Mia (2008-12-05)
---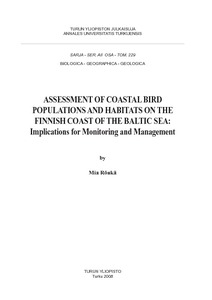 Turun yliopisto Annales Universitatis Turkuensis A II 229
05.12.2008
Julkaisun pysyvä osoite on:
http://urn.fi/URN:ISBN:978-951-29-3733-2
Kuvaus
Siirretty Doriasta
Tiivistelmä
Coastal birds are an integral part of coastal ecosystems, which nowadays are subject to severe environmental pressures. Effective measures for the management and conservation of seabirds and their habitats call for insight into their population processes and the factors affecting their distribution and abundance. Central to national and international management and conservation measures is the availability of accurate data and information on bird populations, as well as on environmental trends and on measures taken to solve environmental problems. In this thesis I address different aspects of the occurrence, abundance, population trends and breeding success of waterbirds breeding on the Finnish coast of the Baltic Sea, and discuss the implications of the results for seabird monitoring, management and conservation. In addition, I assess the position and prospects of coastal bird monitoring data, in the processing and dissemination of biodiversity data and information in accordance with the Convention on Biological Diversity (CBD) and other national and international commitments.

I show that important factors for seabird habitat selection are island area and elevation, water depth, shore openness, and the composition of island cover habitats. Habitat preferences are species-specific, with certain similarities within species groups. The occurrence of the colonial Arctic Tern (Sterna paradisaea) is partly affected by different habitat characteristics than its abundance. Using long-term bird monitoring data, I show that eutrophication and winter severity have reduced the populations of several Finnish seabird species.

A major demographic factor through which environmental changes influence bird populations is breeding success. Breeding success can function as a more rapid indicator of sublethal environmental impacts than population trends, particularly for long-lived and slowbreeding species, and should therefore be included in coastal bird monitoring schemes. Among my target species, local breeding success can be shown to affect the populations of the Mallard (Anas platyrhynchos), the Eider (Somateria mollissima) and the Goosander (Mergus merganser) after a time lag corresponding to their species-specific recruitment age. For some of the target species, the number of individuals in late summer can be used as an easier and more cost-effective indicator of breeding success than brood counts.

My results highlight that the interpretation and application of habitat and population studies require solid background knowledge of the ecology of the target species. In addition, the special characteristics of coastal birds, their habitats, and coastal bird monitoring data have to be considered in the assessment of their distribution and population trends.

According to the results, the relationships between the occurrence, abundance and population trends of coastal birds and environmental factors can be quantitatively assessed using multivariate modelling and model selection. Spatial data sets widely available in Finland can be utilised in the calculation of several variables that are relevant to the habitat selection of Finnish coastal species. Concerning some habitat characteristics field work is still required, due to a lack of remotely sensed data or the low resolution of readily available data in relation to the fine scale of the habitat patches in the archipelago. While long-term data sets exist for water quality and weather, the lack of data concerning for instance the food resources of birds hampers more detailed studies of environmental effects on bird populations. Intensive studies of coastal bird species in different archipelago areas should be encouraged.

The provision and free delivery of high-quality coastal data concerning bird populations and their habitats would greatly increase the capability of ecological modelling, as well as the management and conservation of coastal environments and communities. International initiatives that promote open spatial data infrastructures and sharing are therefore highly regarded. To function effectively, international information networks, such as the biodiversity Clearing House Mechanism (CHM) under the CBD, need to be rooted at regional and local levels. Attention should also be paid to the processing of data for higher levels of the information hierarchy, so that data are synthesized and developed into high-quality knowledge applicable to management and conservation.