Type II aromatic polyketide biosynthetic tailoring enzymes: diversity and adaptation in Streptomyces secondary metabolism.
Kallio, Pauli (2008-12-12)
---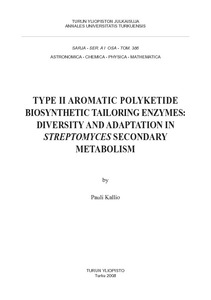 Turun yliopisto Annales Universitatis Turkuensis AI 386
12.12.2008
Julkaisun pysyvä osoite on:
http://urn.fi/URN:ISBN:978-951-29-3754-7
Kuvaus
Siirretty Doriasta
Tiivistelmä
Members of the bacterial genus Streptomyces are well known for their ability to produce an exceptionally wide selection of diverse secondary metabolites. These include natural bioactive chemical compounds which have potential applications in medicine, agriculture and other fields of commerce. The outstanding biosynthetic capacity derives from the characteristic genetic flexibility of Streptomyces secondary metabolism pathways: i) Clustering of the biosynthetic genes in chromosome regions redundant for vital primary functions, and ii) the presence of numerous genetic elements within these regions which facilitate DNA rearrangement and transfer between non-progeny species. Decades of intensive genetic research on the organization and function of the biosynthetic routes has led to a variety of molecular biology applications, which can be used to expand the diversity of compounds synthesized. These include techniques which, for example, allow modification and artificial construction of novel pathways, and enable gene-level detection of silent secondary metabolite clusters. Over the years the research has expanded to cover molecular-level analysis of the enzymes responsible for the individual catalytic reactions. In vitro studies of the enzymes provide a detailed insight into their catalytic functions, mechanisms, substrate specificities, interactions and stereochemical determinants. These are factors that are essential for the thorough understanding and rational design of novel biosynthetic routes.

The current study is a part of a more extensive research project (Antibiotic Biosynthetic Enzymes; www.sci.utu.fi/projects/biokemia/abe), which focuses on the post-PKS tailoring enzymes involved in various type II aromatic polyketide biosynthetic pathways in Streptomyces bacteria. The initiative here was to investigate specific catalytic steps in anthracycline and angucycline biosynthesis through in vitro biochemical enzyme characterization and structural enzymology. The objectives were to elucidate detailed mechanisms and enzyme-level interactions which cannot be resolved by in vivo genetic studies alone. The first part of the experimental work concerns the homologous polyketide cyclases SnoaL and AknH. These catalyze the closure of the last carbon ring of the tetracyclic carbon frame common to all anthracycline-type compounds. The second part of the study primarily deals with tailoring enzymes PgaE (and its homolog CabE) and PgaM, which are responsible for a cascade of sequential modification reactions in angucycline biosynthesis.

The results complemented earlier in vivo findings and confirmed the enzyme functions in vitro. Importantly, we were able to identify the amino acid -level determinants that influence AknH and SnoaL stereoselectivity and to determine the complex biosynthetic steps of the angucycline oxygenation cascade of PgaE and PgaM. In addition, the findings revealed interesting cases of enzyme-level adaptation, as some of the catalytic mechanisms did not coincide with those described for characterised homologs or enzymes of known function. Specifically, SnoaL and AknH were shown to employ a novel acid-base mechanism for aldol condenzation, whereas the hydroxylation reaction catalysed by PgaM involved unexpected oxygen chemistry. Owing to a gene-level fusion of two ancestral reading frames, PgaM was also shown to adopt an unusual quaternary sturucture, a non-covalent fusion complex of two alternative forms of the protein. Furthermore, the work highlighted some common themes encountered in polyketide biosynthetic pathways such as enzyme substrate specificity and intermediate reactivity. These are discussed in the final chapters of the work.