Transforming Maritime Safety Culture. Evaluation of the impacts of the ISM Code on maritime safety culture in Finland
Lappalainen, Jouni (2008-12-01)
---
Transforming Maritime Safety Culture. Evaluation of the impacts of the ISM Code on maritime safety culture in Finland
(01.12.2008)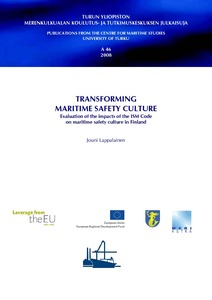 Turun yliopisto
Julkaisun pysyvä osoite on:
https://urn.fi/URN:ISBN:978-951-29-3777-6
Kuvaus
Siirretty Doriasta
Tiivistelmä
The purpose of the METKU Project (Development of Maritime Safety Culture) is to study how the ISM Code has influenced the safety culture in the maritime industry. This literature review is written as a part of the Work Package 2 which is conducted by the University of Turku, Centre for Maritime Studies.

The maritime traffic is rapidly growing in the Baltic Sea which leads to a growing risk of maritime accidents. Particularly in the Gulf of Finland, the high volume of traffic causes a high risk of maritime accidents. The growing risks give us good reasons for implementing the research project concerning maritime safety and the effectiveness of the safety measures, such as the safety management systems. In order to reduce maritime safety risks, the safety management systems should be further developed. The METKU Project has been launched to examine the improvements which can be done to the safety management systems.

Human errors are considered as the most important reason for maritime accidents. The international safety management code (the ISM Code) has been established to cut down the occurrence of human errors by creating a safety-oriented organizational culture for the maritime industry. The ISM Code requires that a company should provide safe practices in ship operation and a safe working environment and establish safeguards against all identified risk. The fundamental idea of the ISM Code is that companies should continuously improve safety. The commitment of the top management is essential for implementing a safety-oriented culture in a company.

The ISM Code has brought a significant contribution to the progress of maritime safety in recent years. Shipping companies and ships' crews are more environmentally friendly and more safety-oriented than 12 years ago. This has been showed by several studies which have been analysed for this literature research. Nevertheless, the direct effect and influence of the ISM Code on maritime safety could not be isolated very well. No quantitative measurement (statistics/hard data) could be found in order to present the impacts of the ISM Code on maritime safety.

In this study it has been discovered that safety culture has emerged and it is developing in the maritime industry. Even though the roots of the safety culture have been established there are still serious barriers to the breakthrough of the safety management. These barriers could be envisaged as cultural factors preventing the safety process. Even though the ISM Code has been effective over a decade, the old-established behaviour which is based on the old day's maritime culture still occurs. In the next phase of this research project, these cultural factors shall be analysed in regard to the present safety culture of the maritime industry in Finland.