Role and Function of c-Jun Protein Complex in Cancer Cell Behavior
Mialon, Antoine (2009-12-16)
---
Role and Function of c-Jun Protein Complex in Cancer Cell Behavior
(16.12.2009)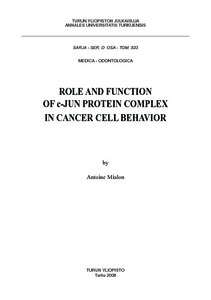 Turun yliopisto
Julkaisun pysyvä osoite on:
https://urn.fi/URN:ISBN:978-951-29-3788-2
Kuvaus
Siirretty Doriasta
Tiivistelmä
Transcription factors play a crucial role in the regulation of cell behavior by modulating gene expression profiles. Previous studies have described a dual role for the AP-1 family transcription factor c-Jun in the regulation of cellular fate. In various cell types weak and transient activations of c-Jun N-terminal kinase (JNK) and c-Jun appear to contribute to proliferation and survival, whereas strong and prolonged activation of JNK and c-Jun result in apoptosis. These opposite roles played by c-Jun are cell type specific and the molecular mechanisms defining these antonymous c-Jun-mediated responses remain incompletely understood.

c-Jun activity in transformed cells is regulated by signalling cascades downstream of oncoproteins such as Ras and Raf. In addition, the pro-proliferative role and the survival promoting function for c-Jun has been described in various cancer models. Furthermore, c-Jun was described to be overexpressed in different cancer types. However, the molecular mechanisms by which c-Jun exerts these oncogenic functions are not all clearly established. Therefore it is of primary interest to further identify molecular mechanisms and functions for c-Jun in cancer.

Regulation of gene expression is tightly dependent on accurate protein-protein interactions. Therefore, co-factors for c-Jun may define the functions for c-Jun in cancer. Identification of protein-protein interactions promoting cancer may provide novel possibilities for cancer treatment. In this study, we show that DNA topoisomerase I (TopoI) is a transcriptional co-factor for c-Jun. Moreover, c-Jun and TopoI together promote expression of epidermal growth factor receptor (EGFR) in cancer cells. We also show that the clinically used TopoI inhibitor topotecan reduces EGFR expression. Importantly, the effect of TopoI on EGFR transcription was shown to depend on c-Jun as Jun-/- cells or cells treated with JNK inhibitor SP600125 are resistant to topotecan treatment both in regulation of EGFR expression and cell proliferation.

Moreover, c-Jun regulates the nucleolar localization and the function of the ribonucleic acid (RNA) helicase DDX21, a previously identified member of c-Jun protein complex. In addition, c-Jun stimulates rRNA processing by supporting DDX21 rRNA binding. Finally, this study characterizes a DDX21 dependent expression of cyclin dependent kinase (Cdk) 6, a correlation of DDX21 expression with prostate cancer progression and a substrate binding dependency of DDX21 nucleolar localization in prostate cancer cells.

Taken together, the results of this study validate the c-Jun-TopoI interaction and precise the c-Jun-DDX21 interaction. Moreover, these results show the importance for protein-protein interaction in the regulation of their cellular functions in cancer cell behavior. Finally, the results presented here disclose new exciting therapeutic opportunities for cancer treatment.