Immune Evasion by Borrelia burgdorferi – With Special Reference to CD38-mediated Chemotaxis of Neutrophils and Dendritic Cells
Hartiala, Pauliina (2009-02-06)
---
Immune Evasion by Borrelia burgdorferi – With Special Reference to CD38-mediated Chemotaxis of Neutrophils and Dendritic Cells
(06.02.2009)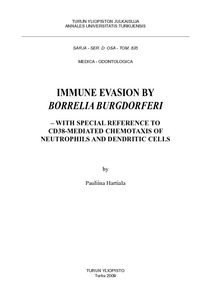 Turun yliopisto
Julkaisun pysyvä osoite on:
https://urn.fi/URN:ISBN:978-951-29-3807-0
Kuvaus
Siirretty Doriasta
Tiivistelmä
Lyme borreliosis is a tick-transmitted infection caused by the spirochete bacterium Borrelia burgdorferi sensu lato. The tick injects bacteria into host skin, where a first line defence, mainly the complement system, neutrophils, dendritic cells and macrophages are ready to attack foreign intruders. However, in the case of Lyme borreliosis, the original immune response in the skin is untypically mild among bacterial infections. A further untypical feature is the ability of B. burgdorferi to disseminate to distant organs, where, in some patients, symptoms appear after years after the original infection. This study aimed at uncovering some of the immune evasion mechanisms utilized by B. burgdorferi against the complement system, neutrophils and dendritic cells.

B. burgdorferi was shown to inhibit chemotaxis of human neutrophils towards nformyl- methyl-leucyl-phenylalanine (fMLP). Outer surface protein B (OspB) of B. burgdorferi was shown to promote resistance to the attack of the complement system and neutrophil phagocytosis at low complement concentrations.

B. burgdorferi was shown to inhibit migration of dendritic cells in vitro towards CCL19 and CCL21 and also in an in vivo model. This effect was shown to be due to the absence of CD38 on the borrelia-stimulated dendritic cell surface. A defect in p38 mitogen-activated-protein-kinase (p38) signaling was linked to defective CD38 expression. A defect in CD38 expression on B. burgdorferi-stimulated neutrophils was also observed.

In this study, a number of novel immune evasion strategies utilized by B burgdorferi were chracterized. However, further studies are needed as other immune evasion mechanisms await to be uncovered.