VAP-1 in Leukocyte Trafficking
Auvinen, Kaisa (2009-02-27)
---
VAP-1 in Leukocyte Trafficking
(27.02.2009)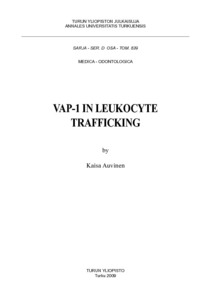 Turun yliopisto
Julkaisun pysyvä osoite on:
https://urn.fi/URN:ISBN:978-951-29-3823-0
Kuvaus
Siirretty Doriasta
Tiivistelmä
The extravasation of leukocytes from the blood stream into the tissues is a prerequisite for adequate immune surveillance and immune reaction. The leukocyte movement from the bloodstream into the tissues is mediated by molecular bonds. The bonds are formed between adhesion molecules on endothelial cells and their counterparts expressed on leukocytes. Vascular adhesion protein-1 (VAP-1) is an endothelial adhesion molecule mediating leukocyte interactions with endothelium. It is also an enzyme having semicarbazide sensitive amine oxidase (SSAO) activity. The SSAOactivity catalyses deamination of primary amines into corresponding aldehyde and during the enzymatic reaction hydrogen peroxide and ammonia are produced.

The aim of this study was to investigate the relationship between the adhesive and enzymatic activities of VAP-1. The role of VAP-1 in leukocyte traffic was studied in vivo under normal and pathological conditions in VAP-1 deficient mice.

The results from in vitro flow-based assays indicated that VAP-1 uses both SSAOactivity and its adhesive epitope to bind leukocytes, and both are perquisites for VAP-1 mediated adhesion. Furthermore, in vivo results demonstrated that leukocyte trafficking was impaired in vivo by deleting VAP-1 or inhibiting SSAO-activity. There was impairment in lymphocyte recirculation as well as leukocyte accumulation into the inflamed area. Moreover, the VAP-1 deficient mice did not show generalized defects in antimicrobial responses, whereas significant reduction in tumor progression and neovascularization was observed. These results indicate that VAP-1 could be used as a target in anti-adhesive therapies either by blocking its adhesive epitope with antibodies or by inhibiting its SSAO-activity using inhibitors. Moreover, targeting of VAP-1 may provide a new way of inhibiting neovascularization in tumors.