Transgenic mice overexpressing neuropeptide Y: An experimental model of metabolic and cardiovascular diseases
Ruohonen, Suvi (2009-03-06)
---
Transgenic mice overexpressing neuropeptide Y: An experimental model of metabolic and cardiovascular diseases
(06.03.2009)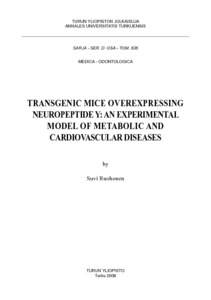 Turun yliopisto
Julkaisun pysyvä osoite on:
https://urn.fi/URN:ISBN:978-951-29-3820-9
Kuvaus
Siirretty Doriasta
Tiivistelmä
Neuropeptide Y (NPY) is an abundant neurotransmitter in the brain and sympathetic nervous system (SNS). Hypothalamic NPY is known to be a key player in food intake and energy expenditure. NPY's role in cardiovascular regulation has also been shown. In humans, a Leucine 7 to Proline 7 single nucleotide polymorphism (p.L7P) in the signal peptide of the NPY gene has been associated with traits of metabolic syndrome. The p.L7P subjects also show increased stress-related release of NPY, which suggests that more NPY is produced and released from SNS. The main objective of this study was to create a novel mouse model with noradrenergic cell-targeted overexpression of NPY, and to characterize the metabolic and vascular phenotype of this model.

The mouse model was named OE-NPYDBH mouse. Overexpression of NPY in SNS and brain noradrenergic neurons led to increased adiposity without significant weight gain or increased food intake. The mice showed lipid accumulation in the liver at young age, which together with adiposity led to impaired glucose tolerance and hyperinsulinemia with age. The mice displayed stress-related increased mean arterial blood pressure, increased plasma levels of catecholamines and enhanced SNS activity measured by GDP binding activity to brown adipose tissue mitochondria. Sexual dimorphism in NPY secretion pattern in response to stress was also seen. In an experimental model of vascular injury, the OE-NPYDBH mice developed more pronounced neointima formation compared with wildtype controls.

These results together with the clinical data indicate that NPY in noradrenergic cells plays an important role in the pathogenesis of metabolic syndrome and related diseases. Furthermore, new insights on the role of the extrahypothalamic NPY in the process have been obtained. The OE-NPYDBH model provides an important tool for further stress and metabolic syndrome-related studies.