Highly functional binding surface for miniaturised solid-phase immunoassays. - A spot story -
Ylikotila, Johanna (2009-03-06)
---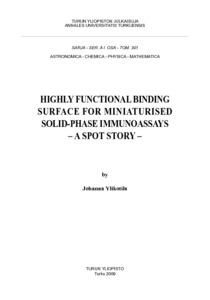 Turun yliopisto Annales Universitatis Turkuensis A I 391
06.03.2009
Julkaisun pysyvä osoite on:
http://urn.fi/URN:ISBN:978-951-29-3831-5
Kuvaus
Siirretty Doriasta
Tiivistelmä
Several bioaffinity assays are based on the detection of an analyte which is bound on a solid substrate via biochemical interaction. These so called solid phase assays are based on the adhesion of the primary binding partner on a solid surface, which then binds the analyte to be detected. In this thesis work a novel solid phase based assay technology, known as spot technology, was developed. The spot technology is based on combination of high-capacity solid phases, concentrated in a spot format, utilising modified streptavidin molecules and recombinant antibody fragments. The reduction of the solid phase binding surface to a size of a spot enabled denser binding of the target molecules, providing improved signal intensities and signal-to-background ratio when applied in different solid phase immunoassays.

Streptavidin-biotin interactions are commonly utilised in numerous different bioaffinity assays and the ultimate nature of streptavidin to bind biotin is among the strongest non-covalent interaction reported between two biomolecules. In this study native core streptavidin was chemically modified to provide polymerised streptavidin molecules with altered adsorption properties. These streptavidin conjugates, when coated onto polystyrene surface, provided enhanced biotin binding capacity and surface stability when compared to a reference coating constructed with native streptavidin. Furthermore, the combination of chemically modified streptavidin, sitespecifically biotinylated antibody fragments and the spot coating technology provided highly dense solid phase coating with improved binding properties.

The performance of the spot assay technology was further demonstrated in different immunoassay configurations. Human thyroid stimulating hormone (TSH) and human cardiac troponin I (cTnI) were used as model analytes to show the applicability of the highly sensitive spot-based solid-phase immunoassay for detection of very low levels of analytes. It was demonstrated that the spot technology provided an assay concept with enhanced sensitivity and short turn-around times, characteristics that are highly suitable for point-of-care applications.