Surgical treatment of hamstring injuries and disorders – the clinical spectrum from chronic tendinopathy to complete rupture
Lempainen, Lasse (2009-03-27)
---
Surgical treatment of hamstring injuries and disorders – the clinical spectrum from chronic tendinopathy to complete rupture
(27.03.2009)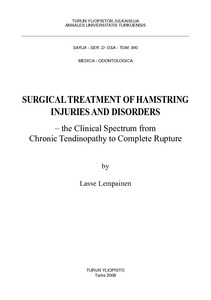 Turun yliopisto
Julkaisun pysyvä osoite on:
https://urn.fi/URN:ISBN:978-951-29-3825-4
Kuvaus
Siirretty Doriasta
Tiivistelmä
Hamstring muscle injuries and tendon disorders are common, especially in sports. They can be severe and difficult to treat, often resulting in impaired athletic performance and long rehabilitation times. Previous studies considering treatment of these problems are scarce. The current study was designed to investigate the effect of surgery on different types of hamstring muscle injuries and on proximal hamstring tendinopathy. In addition, we wanted to study the typical histopathological findings relating to proximal hamstring tendinopathy.

In the study of complete (all three muscles torn) proximal hamstring avulsions (41 patients), our results showed that early operative treatment gives significantly better results than late surgery, and is therefore recommended. Despite this, considerable improvement of symptoms could also be achieved in chronic cases.

In the study of partial (one or two muscles torn) proximal hamstring tears (47 patients), we observed that these injuries can cause significant functional deficit and impaired performance in athletes. The main finding was that after surgical repair most of the patients were able to return to their pre-injury level of sports.

In the study of distal hamstring tears (18 patients), the results showed that surgical treatment had a good effect in the majority of these cases.

In proximal hamstring tendinopathy, the main problem is pain which limits sports. In this study (90 patients), we found that after unsuccessful conservative treatment, surgery was a good treatment option resulting in full return to sports in most cases. In tendinopathic hamstring tendons, the morphological changes of tendinosis were largely identical to those previously described in other common (e.g. Achilles and patellar) tendinopathies.

In chronic proximal hamstring avulsions, and also in reoperations, a large defect between distally retracted tendons and the ischial tuberosity may occasionally prevent anatomic reinsertion. We have described a reconstruction method using fascia lata autograft augmentation to be used in these most challenging repairs. This technique was utilized in the treatment of five patients, with encouraging results.