Personal Liberty in Psychiatric Care - Towards Service User Involvement
Kuosmanen, Lauri (2009-03-27)
---
Personal Liberty in Psychiatric Care - Towards Service User Involvement
(27.03.2009)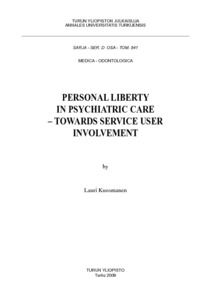 Turun yliopisto
Julkaisun pysyvä osoite on:
https://urn.fi/URN:ISBN:978-951-29-3840-7
Kuvaus
Siirretty Doriasta
Tiivistelmä
This study explores personal liberty in psychiatric care from a service user involvement perspective. The data were collected in four phases during the period 2000-2006 in psychiatric settings in Finland. Firstly, patient satisfaction and factors associated with user involvement were studied (n = 313). Secondly, patients' experiences of deprivation of their liberty were explored (n = 51). Thirdly, an overview on patients' options for lodging complaints was conducted, and all complaints (n = 4645) lodged in Finland from 2000 to 2004 were examined. Fourthly, the effects of different patient education methods on inpatients' experiences of deprivation of liberty were tested (n = 311).

It emerged that patients were quite satisfied, but reported dissatisfaction in restrictions, compulsory care and information dissemination. Patients experienced restrictions on leaving the ward and on communication, confiscation of property and coercive measures as deprivation of liberty. Patients' experienced these interventions to be negative. In Finland, the patient complaint process is complicated and not easily accessible. In general, patient complaints increased considerably in Finland during the study period. In psychiatric care the number of complaints was quite stable and complaints led more seldom to consequences. An Internet-based patient education system was equivalent with traditional education and treatment as usual in supporting personal liberty during hospital care.

This dissertation provides new information about the realization of patients' rights in psychiatric care. In order to improve patients' involvement, systematic methods to increase personal liberty during care need to be developed, the procedures for patients lodging complaints should be simplified, and patients' access to information needs to be ensured using multiple methods.