Negative Regulation of Receptor Tyrosine Kinases by T-cell Protein Tyrosine Phosphatase
Mattila, Elina (2009-03-27)
---
Negative Regulation of Receptor Tyrosine Kinases by T-cell Protein Tyrosine Phosphatase
(27.03.2009)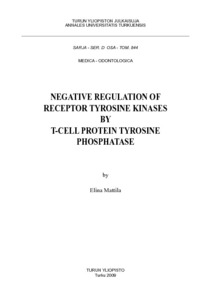 Turun yliopisto
Julkaisun pysyvä osoite on:
https://urn.fi/URN:ISBN:978-951-29-3853-7
Kuvaus
Siirretty Doriasta
Tiivistelmä
Protein tyrosine phosphorylation controls a wide array of cellular responses such as growth, migration, proliferation, differentiation, metabolism and cytoskeletal organisation. Tyrosine phosphorylation is a dynamic process involving the competing activities of protein tyrosine kinases and protein tyrosine phosphatases. The protein tyrosine kinases are further divided into non-receptor- and receptor tyrosine kinases. The latter are transmembrane glycoproteins activated by the binding of specific ligands, mostly growth factors, to their extracellular domain, transmitting different signals to the cell. Growth factor receptors such as the epidermal growth factor receptor, vascular endothelial growth factor receptor 2 and platelet-derived growth factor receptor β, belong to the receptor tyrosine kinases, the signalling of which is often disturbed in various diseases, including cancer. This has led to the development of receptor tyrosine kinase antagonists for use as anti-cancer drugs.

As the receptor tyrosine kinases, also the protein tyrosine phosphatases can be divided into receptor- and non-receptor types. The protein tyrosine phosphatases have attained much less attention than the receptor tyrosine kinases partly because they were identified later. However, accumulating evidence shows that the protein tyrosine phosphatases have important roles as specific and active regulators of tyrosine phosphorylation in cells and of physiological processes. Consequently, the protein tyrosine phosphatases are receiving arising interest as novel drug targets.

The aim of this work was to elucidate the negative regulation of receptor tyrosine kinases by one non-receptor protein tyrosine phosphatase, T-cell protein tyrosine phosphatase TCPTP. The results show that TCPTP activated by cell adhesion receptor integrin α1 functions as a negative regulator of the epidermal growth factor receptor. It was also found that TCPTP affects vascular endothelial growth factor receptor 2 signalling and angiogenesis. Lastly, a High-throughput screen with 64,280 compounds was performed to identify novel TCPTP activators, resulting in identification of one small molecule compound capable of exerting similar effects on TCPTP signalling as integrin α1. This compound is shown to downregulate signalling of epidermal growth factor receptor and platelet-derived growth factor receptor β, as well as to inhibit cell proliferation and angiogenesis. Our results suggest that a suitable small-molecule TCPTP activator could be utilized in the development of novel anti-cancer drugs.