β1 integrin regulation
Pellinen, Teijo (2009-04-08)
---
β1 integrin regulation
(08.04.2009)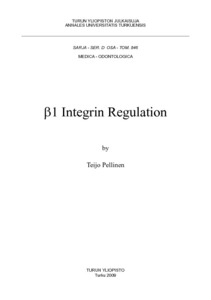 Turun yliopisto
Julkaisun pysyvä osoite on:
https://urn.fi/URN:ISBN:978-951-29-3866-7
Kuvaus
Siirretty Doriasta
Tiivistelmä
Integrins are heterodimeric adhesion receptors mediating adhesion to extracellular matrix proteins and to other cells. Integrins are important in embryonic development, structural integrity of connective tissue, blood thrombus formation, and immune defense system. Integrins are transmembrane proteins whose ligand binding capacity (activity) is regulated by large conformational changes. Extracellular ligand binding or intracellular effector binding to integrin cytoplasmic face regulate integrin activity. Integrins are thus able to mediate bi-directional signaling. Integrin function is also regulated by intracellular location. Integrins are constantly recycled from endocytic vesicles to plasma membrane, and this has been shown to be important for cell migration and invasion as well. Deregulation of integrin functionality can lead to deleterious illnesses, such as bleeding or inflammatory disorders. It is also evident that integrin deregulation is associated with cancer progression.

In this study, a novel Beta1 integrin associating protein, Rab21, was characterized. Rab21 binding to integrin cytoplasmic tail was shown to be important for Beta1 integrin endo- and exocytosis – intracellular trafficking. It was furher shown that this interaction has an important role in cell adhesion, migration, as well as in the final step of cell division, cytokinesis. This work showed that abrogation of Rab21 function or β1 integrin endocytic traffic, can lead to defects in cell division and results in formation of multinucleated cells. Multinucleation and especially tetraploidy can be a transient pathway to aneuploidy and tumorigenesis. This work characterized chromosomal deletions in rab21 locus in ovarian and prostate cancer samples and showed that a cell line with rab21 deletion also had impairment in cell division, which could be rescued by Rab21 re-expression. The work demonstrates an important role for Rab21 and Beta1 integrin traffic regulation in cell adhesion and division, and suggests a probable associaton with tumorigenesis.

In this study, Beta1 integrin activity regulation was also addressed. A novel cell array platform for genome-scale RNAi screenings was characterized here. More than 4500 genes were knocked-down in prostate cancer cells using siRNA-mediated silencing. The effects on Beta1 integrin activity were analyzed upon knock-downs. The screen identified more that 400 putative regulators of Beta1 integrin activity in prostate cancer. In conclusion, this work will help us to understand complex regulatory pathways involved in cancer cell adhesion and migration.