Tautomerism and Fragmentation of Biologically Active Hetero Atom (O, N)-Containing Acyclic and Cyclic Compounds Under Electron Ionization
Martiskainen, Olli (2009-04-17)
---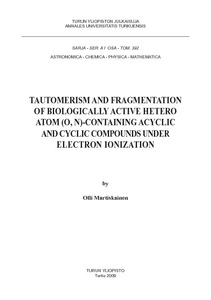 Turun yliopisto Annales Universitatis Turkuensis A I 392
17.04.2009
Julkaisun pysyvä osoite on:
https://urn.fi/URN:ISBN:978-951-29-3864-3
Kuvaus
Siirretty Doriasta
Tiivistelmä
In this thesis a total of 86 compounds containing the hetero atoms oxygen and nitrogen were studied under electron ionization mass spectrometry (EIMS). These compounds are biologically active and were synthesized by various research groups. The main attention of this study was paid on the fragmentations related to different tautomeric forms of 2- phenacylpyridines, 2-phenacylquinolines, 8-aryl-3,4-dioxo-2H,8H-6,7-dihydroimidazo- [2,1-c][1,2,4]triazines and aryl- and benzyl-substituted 2,3-dihydroimidazo[1,2-a]pyrimidine-5,7-(1H,6H)-diones. Also regio/stereospecific effects on fragmentations of pyrrolo- and isoindoloquinazolinones and naphthoxazine, naphthpyrrolo-oxazinone and naphthoxazino-benzoxazine derivatives were screened. Results were compared with NMR data, when available.

The first part of thesis consists of theory and literature review of different types of tautomerism and fragmentation mechanisms in EIMS. The effects of tautomerism in biological systems are also briefly reviewed.

In the second part of the thesis the own results of the author, based on six publications,are discussed. For 2-phenacylpyridines and 2-phenacylquinolines the correlation of different Hammett substituent constants to the relative abundances (RA) or total ion currents (% TIC) of selected ions were investigated. Although it was not possible to assign most of the ions formed unambiguously to the different tautomers, the linear fits of their RAs and % TICs can be related to changing contributions of different tautomeric forms. For dioxoimidazotriazines and imidazopyrimidinediones the effects of substituents were rather weak.

The fragmentations were also found useful for obtaining structural information. Some stereoisomeric pairs of pyrrolo- and isoindoloquinazolines and regiomeric pairs of naphtoxazine derivatives showed clear differences in thir mass spectra. Some mechanisms are suggested for their fragmentations.