Evolution and Stellar Content of AGN Host Galaxies
Hyvönen, Tomi (2009-05-09)
---
Evolution and Stellar Content of AGN Host Galaxies
(09.05.2009)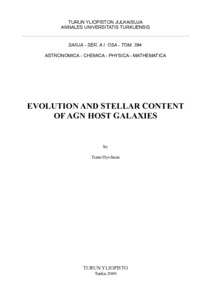 Turun yliopisto Annales Universitatis Turkuensis A I 394
Julkaisun pysyvä osoite on:
https://urn.fi/URN:ISBN:978-951-29-3908-4
Kuvaus
Siirretty Doriasta
Tiivistelmä
In this dissertation, Active Galactic Nuclei (AGN) and their host galaxies are discussed. Together with transitional events, such as supernovae and gamma-ray bursts, AGN are the most energetic phenomena in the Universe. The dominant fraction of their luminosity originates from the center of a galaxy, where accreting gas falls into a supermassive black hole, converting gravitational energy to radiation. AGN have a wide range of observed properties: e.g. in their emission lines, radio emission, and variability. Most likely, these properties depend significantly on their orientation to our line-of-sight, and to unify AGN into physical classes it is crucial to observe their orientation-independent properties, such as the host galaxies. Furthermore, host galaxy studies are essential to understand the formation and co-evolution of galactic bulges and supermassive black holes. In this thesis, the main focus is on observationally characterizing AGN host galaxies using optical and near-infrared imaging and spectroscopy.

BL Lac objects are a class of AGN characterized by rapidly variable and polarized continuum emission across the electromagnetic spectrum, and coredominated radio emission. The near-infrared properties of intermediate redshift BL Lac host galaxies are studied in Paper I. They are found to be large elliptical galaxies that are more luminous than their low redshift counterparts suggesting a strong luminosity evolution, and a contribution from a recent star formation episode. To analyze the stellar content of galaxies in more detail multicolor data, especially observations at blue wavelengths, are essential. In Paper III, optical - near-infrared colors and color gradients are derived for low redshift BL Lac host galaxies. They show bluer colors and steeper color gradients than inactive ellipticals which, most likely, are caused by a relatively young stellar population indicating a different evolutionary stage between AGN hosts and inactive ellipticals.

In Paper II, near-infrared imaging of intermediate redshift radio-quiet quasar hosts is used to study their luminosity evolution. The hosts are large elliptical galaxies, but they are systematically fainter than the hosts of radio-loud quasars at similar redshifts, suggesting a link between the luminosity of the host galaxies and the radio properties of AGN.

In Paper IV, the characteristics of near-infrared stellar absorption features of low redshift radio galaxies are compared with those of inactive early-type galaxies. The comparison suggests that early-type galaxies with AGN are in a different evolutionary stage than their inactive counterparts. Moreover, radio galaxies are found to contain stellar populations containing both old and intermediate age components.