Design and production of protein nanostructures for biomolecular detection
Jääskeläinen, Anu (2009-05-15)
---
Design and production of protein nanostructures for biomolecular detection
(15.05.2009)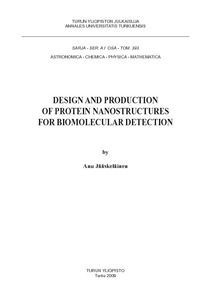 Turun yliopisto Annales Universitatis Turkuensis A I 393
Julkaisun pysyvä osoite on:
https://urn.fi/URN:ISBN:978-951-29-3906-0
Kuvaus
Siirretty Doriasta
Tiivistelmä
Particulate nanostructures are increasingly used for analytical purposes. Such particles are often generated by chemical synthesis from non-renewable raw materials. Generation of uniform nanoscale particles is challenging and particle surfaces must be modified to make the particles biocompatible and water-soluble. Usually nanoparticles are functionalized with binding molecules (e.g., antibodies or their fragments) and a label substance (if needed). Overall, producing nanoparticles for use in bioaffinity assays is a multistep process requiring several manufacturing and purification steps.

This study describes a biological method of generating functionalized protein-based nanoparticles with specific binding activity on the particle surface and label activity inside the particles. Traditional chemical bioconjugation of the particle and specific binding molecules is replaced with genetic fusion of the binding molecule gene and particle backbone gene. The entity of the particle shell and binding moieties are synthesized from generic raw materials by bacteria, and fermentation is combined with a simple purification method based on inclusion bodies. The label activity is introduced during the purification. The process results in particles that are ready-to-use as reagents in bioaffinity. Apoferritin was used as particle body and the system was demonstrated using three different binding moieties: a small protein, a peptide and a single chain Fv antibody fragment that represents a complex protein including disulfide bridge.If needed, Eu3+ was used as label substance.

The results showed that production system resulted in pure protein preparations, and the particles were of homogeneous size when visualized with transmission electron microscopy. Passively introduced label was stably associated with the particles, and binding molecules genetically fused to the particle specifically bound target molecules. Functionality of the particles in bioaffinity assays were successfully demonstrated with two types of assays; as labels and in particle-enhanced agglutination assay. This biological production procedure features many advantages that make the process especially suited for applications that have frequent and recurring requirements for homogeneous functional particles. The production process of ready, functional and watersoluble particles follows principles of "green chemistry", is upscalable, fast and cost-effective.