Apolipoprotein E and Recovery from Traumatic Brain Injury
Hiekkanen, Heli (2009-05-15)
---
Apolipoprotein E and Recovery from Traumatic Brain Injury
(15.05.2009)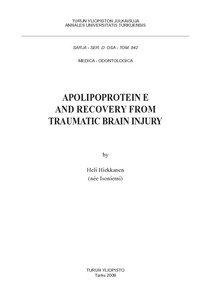 Turun yliopisto
Julkaisun pysyvä osoite on:
https://urn.fi/URN:ISBN:978-951-29-3842-1
Kuvaus
Siirretty Doriasta
Tiivistelmä
The outcome from traumatic brain injury (TBI) is variable and only partly explained by known prognostic factors. This is especially true for predicting long-term outcome. Genetic factors may influence the brain`s susceptibility to injury or capacity for repair and regeneration. To examine the association of apolipoproteinE (apoE) genotype with long-term outcome, hippocampal volumes and general brain atrophy, we determined the apoE genotype from 61 TBI patients who had been injured over on average 31 years earlier. The long-term outcome was evaluated with repeated neuropsychological testing and by applying various measures of everyday functioning and quality of life. Magnetic resonance imaging (MRI) based volumetric analyses of the hippocampus and lateral ventricles were performed.

In the prospective study, the purpose was to examine the association between apoE genotype and visibility of traumatic brain lesions during the first year after TBI and the ability of apoE genotype, the Glasgow Coma Score (GCS), MRI findings and duration of posttraumatic amnesia (PTA) to predict the one-year outcome. Thirty-three patients with TBI were studied and the outcome was evaluated with the Head Injury Symptom Checklist (HISC) and the Glasgow Outcome Scale extended version (GOS-E) scores one year after the injury. MRI and apoE genotyping were carried out.

After three decades, neither hippocampal nor lateral ventricle volumes differed significantly in those patients with the apoE ε4 allele vs those without this allele, but the TBI patients with the apoE ε4 allele showed significantly poorer general cognitive level than those without this allele. This decline was wholly accounted for by a subgroup of patients who had developed incident or clinical dementia.

In the prospective study the apoE genotype was not associated with visible MRI changes or outcome. The duration of PTA and acute MRI were the best predictors of one-year outcome in TBI.

A portion of the TBI patients with the apoE ε4 allele seem to be at risk of long-term cognitive decline. This association may involve mechanisms other than those responsible for the development of brain atrophy. The early MRI and PTA have an important role in assessing the injury severity and prognosis.