Use of the Optical Cantilever Microphone in Photoacoustic Spectroscopy
Uotila, Juho (2009-05-29)
---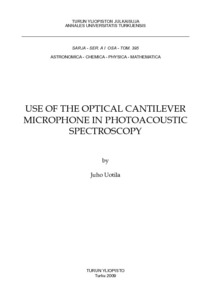 Turun yliopisto Annales Universitatis Turkuensis A I 395
29.05.2009
Julkaisun pysyvä osoite on:
http://urn.fi/URN:ISBN:978-951-29-3912-1
Kuvaus
Siirretty Doriasta
Tiivistelmä
A novel cantilever pressure sensor was developed in the Department of Physics at the University of Turku in order to solve the sensitivity problems which are encountered when condenser microphones are used in photoacoustic spectroscopy. The cantilever pressure sensor, combined with a laser interferometer for the measurement of the cantilever movements, proved to be highly sensitive. The original aim of this work was to integrate the sensor in a photoacoustic gas detector working in a differential measurement scheme. The integration was made successfully into three prototypes. In addition, the cantilever was also integrated in the photoacoustic FTIR measurement schemes of gas-, liquid-, and solid-phase samples. A theoretical model for the signal generation in each measurement scheme was created and the optimal celldesign discussed.

The sensitivity and selectivity of the differential method were evaluated when a blackbody radiator and a mechanical chopper were used with CO2, CH4, CO, and C2H4 gases. The detection limits were in the sub-ppm level for all four gases with only a 1.3 second integration time and the cross interference was well below one percent for all gas combinations other than those between hydrocarbons. Sensitivity with other infrared sources was compared using ethylene as an example gas. In the comparison of sensitivity with different infrared sources the electrically modulated blackbody radiator gave a 35 times higher and the CO2-laser a 100 times lower detection limit than the blackbody radiator with a mechanical chopper. As a conclusion, the differential system is well suited to rapid single gas measurements.

Gas-phase photoacoustic FTIR spectroscopy gives the best performance, when several components have to be analyzed simultaneously from multicomponent samples. Multicomponent measurements were demonstrated with a sample that contained different concentrations of CO2, H2O, CO, and four different hydrocarbons. It required an approximately 10 times longer measurement time to achieve the same detection limit for a single gas as with the differential system. The properties of the photoacoustic FTIR spectroscopy were also compared to conventional transmission FTIR spectroscopy by simulations.

Solid- and liquid-phase photoacoustic FTIR spectroscopy has several advantages compared to other techniques and therefore it also has a great variety of applications. A comparison of the signal-to-noise ratio between photoacoustic cells with a cantilever microphone and a condenser microphone was done with standard carbon black, polyethene, and sunflower oil samples. The cell with the cantilever microphone proved to have a 5-10 times higher signal-to-noise ratio than the reference detector, depending on the sample. Cantilever enhanced photoacoustics will be an effective tool for gas detection and analysis of solid- and liquid-phase samples. The preliminary prototypes gave good results in all three measurement schemes that were studied. According to simulations, there are possibilities for further enhancement of the sensitivity, as well as other properties, of each system.