Food Safety Testing: Rapid Molecular Methods for Chemical and Biological Hazards
Hagren, Virve (2009-05-29)
---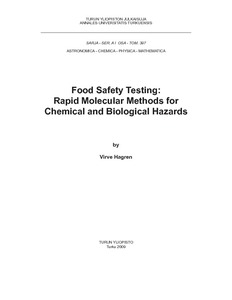 Turun yliopisto Annales Universitatis Turkuensis A I 397
29.05.2009
Julkaisun pysyvä osoite on:
http://urn.fi/URN:ISBN:978-951-29-3916-9
Kuvaus
Siirretty Doriasta
Tiivistelmä
The central goal of food safety policy in the European Union (EU) is to protect consumer health by guaranteeing a high level of food safety throughout the food chain. This goal can in part be achieved by testing foodstuffs for the presence of various chemical and biological hazards. The aim of this study was to facilitate food safety testing by providing rapid and user-friendly methods for the detection of particular food-related hazards.

Heterogeneous competitive time-resolved fluoroimmunoassays were developed for the detection of selected veterinary residues, that is coccidiostat residues, in eggs and chicken liver. After a simplified sample preparation procedure, the immunoassays were performed either in manual format with dissociation-enhanced measurement or in automated format with pre-dried assay reagents and surface measurement. Although the assays were primarily designed for screening purposes providing only qualitative results, they could also be used in a quantitative mode. All the developed assays had good performance characteristics enabling reliable screening of samples at concentration levels required by the authorities.

A novel polymerase chain reaction (PCR)-based assay system was developed for the detection of Salmonella spp. in food. The sample preparation included a short non-selective pre-enrichment step, after which the target cells were collected with immunomagnetic beads and applied to PCR reaction vessels containing all the reagents required for the assay in dry form. The homogeneous PCR assay was performed with a novel instrument platform, GenomEra™, and the qualitative assay results were automatically interpreted based on end-point time-resolved fluorescence measurements and cut-off values. The assay was validated using various food matrices spiked with sub-lethally injured Salmonella cells at levels of 1-10 colony forming units (CFU)/25 g of food. The main advantage of the system was the exceptionally short time to result; the entire process starting from the pre-enrichment and ending with the PCR result could be completed in eight hours.

In conclusion, molecular methods using state-of-the-art assay techniques were developed for food safety testing. The combination of time-resolved fluorescence detection and ready-to-use reagents enabled sensitive assays easily amenable to automation. Consequently, together with the simplified sample preparation, these methods could prove to be applicable in routine testing.