The Effects of Endocrine Disrupters on Fetal Male Rat Testicular and Adrenal Development
Adamsson, Annika (2009-06-04)
---
The Effects of Endocrine Disrupters on Fetal Male Rat Testicular and Adrenal Development
(04.06.2009)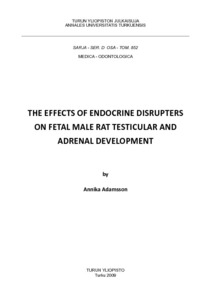 Turun yliopisto
Julkaisun pysyvä osoite on:
https://urn.fi/URN:ISBN:978-951-29-3934-3
Kuvaus
Siirretty Doriasta
Tiivistelmä
Many of the reproductive disorders that emerge in adulthood have their origin during fetal development. Numerous studies have demonstrated that exposure to endocrine disrupting chemicals can permanently affect the reproductive health of experimental animals. In mammals, male sexual differentiation and development are androgen-dependent processes. In rat, the critical programming window for masculinization occurs between embryonic days (EDs) 15.5 and 19.5. Disorders in sex steroid balance during fetal life can disturb the development of the male reproductive tract. In addition to the fetal testis, the adrenal cortex starts to produce steroid hormones before birth. Glucocorticoids produced by the adrenal cortex are essential for preparing the fetus for birth. In the present study, the effects of exposure to endocrine disrupters on fetal male rat testicular and adrenal development were investigated. To differentiate the systemic and direct testicular effects of endocrine disrupters, both in vivo and in vitro experiments were performed. The present study also clarified the role of desert hedgehog signalling (Dhh) in the development of the testis.

The results indicate that endocrine disrupters, diethylstilbestrol (DES) and flutamide, are able to induce rapid steroidogenic changes in fetal rat testis under in vitro conditions. Although in utero exposure to these chemicals did not show overt effects in fetal testis, they can induce permanent changes in the developing testis and accessory sex organs later in life. We also reported that exposure to antiandrogens can interfere with testicular Dhh signalling and result in impaired differentiation of the fetal Leydig cells and subsequently lead to abnormal testicular development and sexual differentiation. In utero exposure to tetrachlorodibenzo-p-dioxin (TCDD) caused direct testicular and pituitary effects on the fetal male rat but with different dose responses. In a study in which the effects of developmental exposure to environmental antiandrogens, di-isononylphthalate and 1,1-dichloro-2,2-bis(p-chlorophenyl)ethylene (p,p'-DDE), on fetal male rat steroidogenesis were investigated, chemicals did not down-regulate testicular or adrenal steroid hormone synthesis or production in 19.5-day-old fetal rats. However, p,p'-DDE-treatment caused clear histological and ultrastructural changes in the prenatal testis and adrenal gland. These structural alterations can disturb the development and function of fetal testis and adrenal gland that may become evident later in life.

Exposure to endocrine disrupters during fetal life can cause morphological abnormalities and alter steroid hormone production by fetal rat Leydig cells and adrenocortical cells. These changes may contribute to the maldevelopment of the testis and the adrenal gland. The present study highlights the importance of the fetal period as a sensitive window for endocrine disruption.