Cancer therapy-related toxicity in the immature testis
Nurmio, Mirja (2009-06-05)
---
Cancer therapy-related toxicity in the immature testis
(05.06.2009)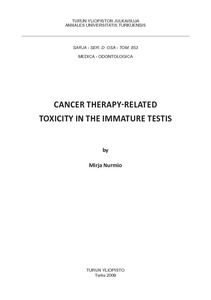 Turun yliopisto
Julkaisun pysyvä osoite on:
https://urn.fi/URN:ISBN:978-951-29-3936-7
Kuvaus
Siirretty Doriasta
Tiivistelmä
Infertility is a common late effect of childhood cancer treatment. Testicular toxicity can clinically be first detected after the onset of pubertal maturation of the patients when the testis does not grow, spermatogenesis does not initiate and serum levels of gonadotrophins rise. Improved prognosis for childhood cancer has resulted in a growing number of childhood cancer survivors with late effects.

In our study, we developed novel tools for detecting cancer therapy-related testicular toxicity during development. By using these methods the effects of the tyrosine kinase inhibitor imatinib mesylate, chemotherapy agent doxorubicin and irradiation on testicular development were investigated in rat and monkey.

Patients with chronic myeloid leukemia and some patients with acute lymphoblastic leukemia have fusion gene BCR-ABL which codes for abnormal tyrosine kinase protein. Imatinib mesylate (Glivec®) inhibits activity of this protein. In addition, imatinib inhibits the action of the c-kit and PDGF –receptors, which are both important for the survival and proliferation of the spermatogonial stem cell pool. Imatinib exposure during prepubertal development disturbed the development and the growth of the testis. Spermatogonial stem cells were also sensitive to the toxic effects of doxorubicin and irradiation during the initiation phase of spermatogenesis.

In addition, the effect of the treatment of acute lymphoblastic leukemia on germ cell numbers and recovery of reproductive functions after sexual maturation was investigated. Therapy for childhood acute lymphoblastic leukemia seldom results in infertility.

The present study gives new information on the mechanisms by which cancer treatments exert their gonadal toxicity in immature testis.