Osteoclastic tartrate-resistant acid phosphatase 5b. Diagnostic use and biological significance in bone physiology
Fagerlund, Katja (2009-06-12)
---
Osteoclastic tartrate-resistant acid phosphatase 5b. Diagnostic use and biological significance in bone physiology
(12.06.2009)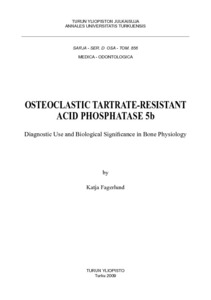 Turun yliopisto
Julkaisun pysyvä osoite on:
https://urn.fi/URN:ISBN:978-951-29-3953-4
Kuvaus
Siirretty Doriasta
Tiivistelmä
The skeleton undergoes continuous turnover throughout life. In women, an increase in bone turnover is pronounced during childhood and puberty and after menopause. Bone turnover can be monitored by measuring biochemical markers of bone resorption and bone formation. Tartrate-resistant acid phosphatase (TRACP) is an enzyme secreted by osteoclasts, macrophages and dendritic cells. The secreted enzyme can be detected from the blood circulation by recently developed immunoassays. In blood circulation, the enzyme exists as two isoforms, TRACP 5a with an intact polypeptide chain and TRACP 5b in which the polypeptide chain consists of two subunits. The 5b form is predominantly secreted by osteoclasts and is thus associated with bone turnover. The secretion of TRACP 5b is not directly related to bone resorption; instead, the levels are shown to be proportional to the number of osteoclasts. Therefore, the combination of TRACP 5b and a marker reflecting bone degradation, such as C-terminal cross-linked telopeptides of type I collagen (CTX), enables a more profound analysis of the changes in bone turnover.

In this study, recombinant TRACP 5a-like protein was proteolytically processed into TRACP 5b-like two subunit form. The 5b-like form was more active both as an acid phosphatase and in producing reactive oxygen species, suggesting a possible function for TRACP 5b in osteoclastic bone resorption. Even though both TRACP 5a and 5b were detected in osteoclasts, serum TRACP 5a levels demonstrated no change in response to alendronate treatment of postmenopausal women. However, TRACP 5b levels decreased substantially, demonstrating that alendronate decreases the number of osteoclasts. This was confirmed in human osteoclast cultures, showing that alendronate decreased the number of osteoclats by inducing osteoclast apoptosis, and TRACP 5b was not secreted as an active enzyme from the apoptotic osteoclasts. In peripubertal girls, the highest levels of TRACP 5b and other bone turnover markers were observed at the time of menarche, whereas at the same time the ratio of CTX to TRACP 5b was lowest, indicating the presence of a high number of osteoclasts with decreased resorptive activity.

These results support the earlier findings that TRACP 5b is the predominant form of TRACP secreted by osteoclasts. The major source of circulating TRACP 5a remains to be established, but is most likely other cells of the macrophage-monocyte system. The results also suggest that bone turnover can be differentially affected by both osteoclast number and their resorptive activity, and provide further support for the possible clinical use of TRACP 5b as a marker of osteoclast number.