Targeted ablation of gonadotropin dependent endocrine tumors in transgenic mice through their luteinizing hormone receptor (LHR)
Vuorenoja, Susanna (2009-06-18)
---
Targeted ablation of gonadotropin dependent endocrine tumors in transgenic mice through their luteinizing hormone receptor (LHR)
(18.06.2009)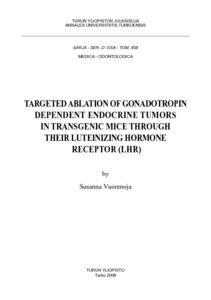 Turun yliopisto
Julkaisun pysyvä osoite on:
https://urn.fi/URN:ISBN:978-951-29-3961-9
Kuvaus
Siirretty Doriasta
Tiivistelmä
Gonadal somatic cell and adrenocortical endocrine tumors are rare. The incidence of adrenocortical carcinomas is only 1-2/1000000 a year. However, they are aggressive, especially in adulthood and currently surgery is the only curative treatment. Cytotoxic agents are in use in advanced cancers, but side effects and multidrug resistance are often problems. Thus there is a need for novel curative treatment methods. In contrast, ovarian granulosa cell tumors and testicular Leydig cell tumors are usually benign, especially at a younger age.

The aim of the present thesis was to study a novel targeted treatment method through luteinizing hormone/chorionic gonadotropin receptor (LHCGR) in a transgenic mouse tumor model. The cytotoxic agent was lytic peptide Hecate-CGbeta conjugate where 23 amino acid Hecate, a synthetic form of honeybee venom melittin, was conjugated to 15 amino acid fragment of human chorionic gonadotropin β subunit. Lytic peptides are known to act only on negatively charged cells, such as bacteria and cancer cells and hereby, due to hCGbeta fragment, the conjugate is able to bind directly to LHCGR bearing cancer cells, saving the healthy ones. The experiments were carried out in inhibin-alpha-Simian Virus 40-T-antigen transgenic mice that are known to express LHCGR-bearing gonadal tumors, namely Leydig and granulosa cell tumors by 100% penetrance. If the mice are gonadectomized prepubertally they form adrenocortical tumors instead. Transgenic and wild type mice were treated for three consecutive weeks with control vehicle, Hecate or Hecate-CGbeta conjugate. GnRH antagonist or estradiol was given to a group of mice with or without Hecate-CGbeta conjugate to analyze the additive role of gonadotropin blockage in adrenocortical tumor treatment efficacy.

Hecate-CGbeta conjugate was able to diminish the gonadal and adrenal tumor size effectively in males. No treatment related side effects were found. Gonadotropin blockage through GnRH antagonist was the best treatment in female adrenal tumors. The mode of cell death by Hecate-CGbeta conjugate was proven to be through necrosis. LHCGR and GATA-4 were co-expressed in tumors, where the treatment down-regulated their expression simultaneously, suggesting their possible use as tumor markers.

In conclusion, the present thesis showed that Hecate-CGbeta conjugate targets its action selectively through LHCGR and selectively kills the LHCGR bearing tumor cells. It works both in gonadal somatic and in ectopic LHCGR bearing adrenal tumors. These results establish a more general principle that receptors expressed ectopically in malignant cells can be exploited in targeted cytotoxic therapies without affecting the normal healthy cells.