On Topological Solitons in The Faddeev-Skyrme Model and its Extensions
Jäykkä, Juha (2009-06-26)
---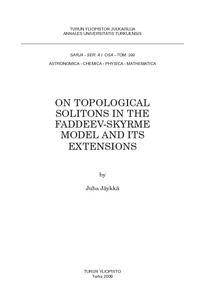 Turun yliopisto Annales Universitatis Turkuensis AI 399
26.06.2009
Julkaisun pysyvä osoite on:
http://urn.fi/URN:ISBN:978-951-29-3965-7
Kuvaus
Siirretty Doriasta
Tiivistelmä
The topological solitons of two classical field theories, the Faddeev-Skyrme model and the Ginzburg-Landau model are studied numerically and analytically in this work. The aim is to gain information on the existence and properties of these topological solitons, their structure and behaviour under relaxation.

First, the conditions and mechanisms leading to the possibility of topological solitons are explored from the field theoretical point of view. This leads one to consider continuous deformations of the solutions of the equations of motion. The results of algebraic topology necessary for the systematic treatment of such deformations are reviewed and methods of determining the homotopy classes of topological solitons are presented. The Faddeev-Skyrme and Ginzburg-Landau models are presented, some earlier results reviewed and the numerical methods used in this work are described.

The topological solitons of the Faddeev-Skyrme model, Hopfions, are found to follow the same mechanisms of relaxation in three different domains with three different topological classifications. For two of the domains, the necessary but unusual topological classification is presented. Finite size topological solitons are not found in the Ginzburg-Landau model and a scaling argument is used to suggest that there are indeed none unless a certain modification to the model, due to R. S. Ward, is made. In that case, the Hopfions of the Faddeev-Skyrme model are seen to be present for some parameter values. A boundary in the parameter space separating the region where the Hopfions exist and the area where they do not exist is found and the behaviour of the Hopfion energy on this boundary is studied.