Lanthanide Chelates as Donors in Fluorescence Resonance Energy Transfer: Exciting Prospects for Bioaffinity Assay Detection
Kokko, Tiina (2009-06-26)
---
Lanthanide Chelates as Donors in Fluorescence Resonance Energy Transfer: Exciting Prospects for Bioaffinity Assay Detection
(26.06.2009)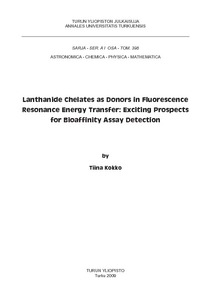 Turun yliopisto Annales Universitatis Turkuensis A I 398
Julkaisun pysyvä osoite on:
https://urn.fi/URN:ISBN:978-951-29-3923-7
Kuvaus
Siirretty Doriasta
Tiivistelmä
Fluorescence resonance energy transfer (FRET) is a non-radiative energy transfer from a fluorescent donor molecule to an appropriate acceptor molecule and a commonly used technique to develop homogeneous assays. If the emission spectrum of the donor overlaps with the excitation spectrum of the acceptor, FRET might occur. As a consequence, the emission of the donor is decreased and the emission of the acceptor (if fluorescent) increased. Furthermore, the distance between the donor and the acceptor needs to be short enough, commonly 10-100 Å. Typically, the close proximity between the donor and the acceptor is achieved via bioaffinity interactions e.g. antibody binding antigen. Large variety of donors and acceptors exist. The selection of the donor/acceptor pair should be done not only based on the requirements of FRET but also the performance expectancies and the objectives of the application should be considered.

In this study, the exceptional fluorescence properties of the lanthanide chelates were employed to develop two novel homogeneous immunoassays: a non-competitive hapten (estradiol) assay based on a single binder and a dual-parametric total and free PSA assay. In addition, the quenching efficiencies and energy transfer properties of various donor/acceptor pairs were studied. The applied donors were either europium(III) or terbium(III) chelates; whereas several organic dyes (both fluorescent and quenchers) acted as acceptors.

First, it was shown that if the interaction between the donor/acceptor complexes is of high quality (e.g. biotin-streptavidin) the fluorescence of the europium(III) chelate could be quenched rather efficiently. Furthermore, the quenching based homogeneous non-competitive assay for estradiol had significantly better sensitivity (~67 times) than a corresponding homogeneous competitive assay using the same assay components. Second, if the acceptors were chosen to emit at the emission minima of the terbium(III) chelate, several acceptor emissions could be measured simultaneously without significant cross-talk from other acceptors. Based on these results, the appropriate acceptors were chosen for the dual-parameter assay. The developed homogeneous dual-parameter assay was able to measure both total and free PSA simultaneously using a simple mix and measure protocol. Correlation of this assay to a heterogeneous single parameter assay was excellent (above 0.99 for both) when spiked human plasma samples were used. However, due to the interference of the sample material, the obtained concentrations were slightly lower with the homogeneous than the heterogeneous assay, especially for the free PSA.

To conclude, in this work two novel immunoassay principles were developed, which both are adaptable to other analytes. However, the hapten assay requires a rather good antibody with low dissociation rate and high affinity; whereas the dual-parameter assay principle is applicable whenever two immunometric complexes can form simultaneously, provided that the requirements of FRET are fulfilled.