Intracellular membrane trafficking in Osteoclasts The role of direct Rab protein – Rac 1 interactions in the targeting of intracellular vesicles
Sun, Yi (2009-10-16)
---
Intracellular membrane trafficking in Osteoclasts The role of direct Rab protein – Rac 1 interactions in the targeting of intracellular vesicles
(16.10.2009)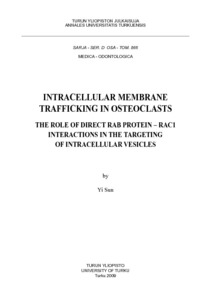 Turun yliopisto
Julkaisun pysyvä osoite on:
https://urn.fi/URN:ISBN:978-951-29-4036-3
Kuvaus
Siirretty Doriasta
Tiivistelmä
Osteoclasts are cells responsible for bone resorption. These cells undergo extensive membrane re-organization during their polarization for bone resorption and form four distinct membrane domains, namely the ruffled border, the basolateral membrane, the sealing zone and the functional secretory domain. The endocytic/biosynthetic pathway and transcytotic route(s) are important for the resorption process, since the endocytic/biosynthetic pathway brings the specific vesicles to the ruffled border whereas the transcytotic flow is believed to transport the degraded bone matrix away from the resorption lacuna to the functional secretory domain.

In the present study, we found a new transcytotic route from the functional secretory domain to the ruffled border, which may compensate membrane loss from the ruffled border during the resorption process. We also found that lipid rafts are essential for the ruffled border-targeted late endosomal pathways.

A small GTP-binding protein, Rab7, has earlier been shown to regulate the late steps of the endocytic pathway. In bone-resorbing osteoclasts it is involved in the formation of the ruffled border, which displays several features of late endosomal membranes. Here we discovered a new Rab7-interacting protein, Rac1, which is another small GTP-binding protein and binds to the GTP-form of Rab7 in vitro. We demonstrated further that Rab7 colocalizes with Rac1 at the fusion zone of the ruffled border in bone-resorbing osteoclasts. In other cell types, such as fibroblast-like cells, this colocalization is mainly perinuclear. Because Rac1 is known to control the actin cytoskeleton through its effectors, we suggest that the Rab7-Rac1 interaction may mediate late endosomal transport between microtubules and microfilaments, thus enabling endosomal vesicles to switch tracks from microtubules to microfilaments before their fusion to the ruffled border.

We then studied the role of Rab-Rac1 interaction in the slow recycling pathway. We revealed that Rac1 also binds directly to Rab11 and to some other but not all Rab-proteins, suggesting that Rab-Rac1 interaction could be a general regulatory mechanism to direct the intracellular vesicles from microtubule mediated transport to actin filament mediated transport and vice versa. On the basis of our results we thus propose a new hypothesis for these GTPases in the regulation of intracellular membrane flow.