Differential Regulation of c-FLIP Isoforms Through Post-translational Modifications
Kaunisto, Aura (2009-11-13)
---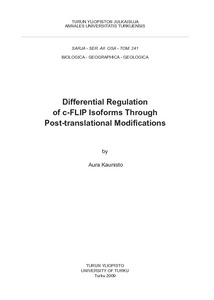 Turun yliopisto Annales Universitatis Turkuensis A II 241
13.11.2009
Julkaisun pysyvä osoite on:
http://urn.fi/URN:ISBN:978-951-29-4070-7
Kuvaus
Siirretty Doriasta
Tiivistelmä
Cells are constantly responding to signals from the surrounding tissues and the environment. To dispose of infected and potentially dangerous cells, to ensure the optimal execution of developmental processes and to maintain tissue homeostasis, a multicellular organism needs to tightly control both the number and the quality of its cells. Apoptosis is a form of active cellular self-destruction that enables an organism to regulate its cell number by deleting damaged or potentially dangerous cells. Apoptosis can be induced by death ligands, which bind to death receptors on the cell surface. Ligation of the receptors leads to the formation of an intracellular death inducing signaling complex (DISC). One of the DISC components is caspase-8, a protease that triggers the caspase cascade and is thereby a key initiator of programmed cell death. The activation of caspase-8 is controlled by the cellular FLICE-inhibitory proteins (c-FLIPs). Consequently, sensitivity towards receptor-mediated apoptosis is determined by the amount of c-FLIP, and the c-FLIP levels are actively regulated for example during erythroid differentiation of K562 erythroleukemia cells and by hyperthermia in Jurkat leukemia cells. The aim of my thesis was to investigate how c-FLIP is regulated during these processes. We found that c-FLIP isoforms are short-lived proteins, although c-FLIPS had an even shorter half-life than c-FLIPL. In both experimental models, increased death receptor sensitivity correlated with induced ubiquitylation and consequent proteasomal degradation of c-FLIP. Furthermore, we elucidated how phosphorylation regulates the biological functions and the turnover of c-FLIP, thereby contributing to death receptor sensitivity. We mapped the first phosphorylation sites on c-FLIP and dissected how their phosphorylation affects c-FLIP. Moreover, we demonstrated that phosphorylation of serine 193, a phosphorylated residue common to all c-FLIPs, is primarily mediated by the classical PKC. Furthermore, we discovered a novel connection between the phosphorylation and ubiquitylation of c-FLIP: phosphorylation of S193 protects c-FLIP from ubiquitylation. Surprisingly, although all c-FLIP isoforms are phosphorylated on this conserved residue, the biological outcome is different for the long and short isoforms, since S193 specifically prolongs the half-lives of the short c-FLIP isoforms, but not c-FLIPL. To summarize, we show that c-FLIP proteins are modified by ubiquitylation and phosphorylation, and that the biological outcomes of these modifications are isoform-specifically determined.