Biotransformation and endocrine disruptive effects of contaminants in ringed seals - implications for monitoring and risk assessment
Routti, Heli (2009-11-06)
---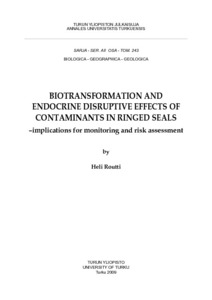 Turun yliopisto Annales Universitatis Turkuensis A II 243
06.11.2009
Julkaisun pysyvä osoite on:
http://urn.fi/URN:ISBN:978-951-29-4085-1
Kuvaus
Siirretty Doriasta
Tiivistelmä
Marine mammals are exposed to persistent organic pollutants (POPs), which may be biotransformed to metabolites some of which are highly toxic. Both POPs and their metabolites may lead to adverse health effects, which have been studied using various biomarkers. Changes in endocrine homeostasis have been suggested to be sensitive biomarkers for contaminant-related effects. The overall objective of this doctoral thesis was to investigate biotransformation capacity of POPs and their potential endocrine disruptive effects in two contrasting ringed seal populations from the low contaminated Svalbard area and from the highly contaminated Baltic Sea.

Biotransformation capacity was studied by determining the relationships between congener-specific patterns and concentrations of polychlorinated biphenyls (PCBs), organochlorine pesticides (OCPs), polybrominated diphenyl ethers (PBDEs) and their hydroxyl (OH)- and/or methylsulfonyl (MeSO2)-metabolites, and catalytic activities of hepatic xenobiotic-metabolizing phase I and II enzymes. The results suggest that the biotransformation of PCBs, PBDEs and toxaphenes in ringed seals depends on the congener-specific halogen-substitution pattern. Biotransformation products detected in the seals included OH-PCBs, MeSO2-PCBs and –DDE, pentachlorophenol, 4-OHheptachlorostyrene, and to a minor extent OH-PBDEs. The effects of life history state (moulting and fasting) on contaminant status and potential biomarkers for endocrine disruption, including hormone and vitamin homeostasis, were investigated in the low contaminated ringed seal population from Svalbard. Moulting/fasting status strongly affected thyroid, vitamin A and calcitriol homeostasis, body condition and concentrations of POPs and their OH-metabolites. In contrast, moulting/fasting status was not associated with variations in vitamin E levels. Endocrine disruptive effects on multiple endpoints were investigated in the two contrasting ringed seal populations. The results suggest that thyroid, vitamin A and calcitriol homeostasis may be affected by the exposure of contaminants and/or their metabolites in the Baltic ringed seals. Complex and non-linear relationships were observed between the contaminant levels and the endocrine variables. Positive relationships between circulating free and total thyroid hormone concentration ratios and OH-PCBs suggest that OH-PCBs may mediate the disruption of thyroid hormone transport in plasma. Species differences in thyroid and bone-related effects of contaminants were studied in ringed and grey seals from low contaminated references areas and from the highly contaminated Baltic Sea. The results indicate that these two species living at the same environment approximately at the same trophic level respond in a very different way to contaminant exposure.

The results of this thesis suggest that the health status of the Baltic ringed seals has still improved during the last decade. PCB and DDE levels have decreased in these seals and the contaminant-related effects are different today than a decade ago. The health of the Baltic ringed seals is still suggested to be affected by the contaminant exposure. At the present level of the contaminant exposure the Baltic ringed seals seem to be at a zone where their body is able to compensate for the contaminant-mediated endocrine disruption. Based on the results of this thesis, several recommendations that could be applied on monitoring and assessing risk for contaminant effects are provided. Circulating OH-metabolites should be included in monitoring and risk assessment programs due to their high toxic potential. It should be noted that endogenous variables may have complex and highly variable responses to contaminant exposure including non-linear responses. These relationships may be further confounded by life history status. Therefore, it is highly recommended that when using variables related to endocrine homeostasis to investigate/monitor or assess the risk of contaminant effects in seals, the life history status of the animal should be carefully taken into consideration. This applies especially when using thyroid, vitamin A or calcitriolrelated parameters during moulting/fasting period. Extrapolations between species for assessing risk for contaminant effects in phocid seals should be avoided.