Thylakoid Protein Phosphorylation in Regulation of Photosynthesis
Tikkanen, Mikko (2009-11-20)
---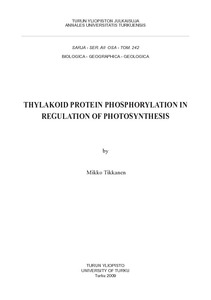 Turun yliopisto Annales Universitatis Turkuensis AII 242
20.11.2009
Julkaisun pysyvä osoite on:
http://urn.fi/URN:ISBN:978-951-29-4081-3
Kuvaus
Siirretty Doriasta
Tiivistelmä
Once the seed has germinated, the plant is forced to face all the environmental changes in its habitat. In order to survive, plants have evolved a number of different acclimation systems. The primary reaction behind plant growth and development is photosynthesis. Photosynthesis captures solar energy and converts it into chemical form. Photosynthesis in turn functions under the control of environmental cues, but is also affected by the growth, development, and metabolic state of a plant. The availability of solar energy fluctuates continuously, requiring non-stop adjustment of photosynthetic efficiency in order to maintain the balance between photosynthesis and the requirements and restrictions of plant metabolism. Tight regulation is required, not only to provide sufficient energy supply but also to prevent the damage caused by excess energy. The very first reaction of photosynthesis is splitting of water into the form of oxygen, hydrogen, and electrons. This most fundamental reaction of life is run by photosystem II (PSII), and the energy required for the reaction is collected by the light harvesting complex II (LHCII). Several proteins of the PSII-LHCII complex are reversibly phosphorylated according to the energy balance between photosynthesis and metabolism. Thylakoid protein phosphorylation has been under extensive investigation for over 30 years, yet the physiological role of phosphorylation remains elusive. Recently, the kinases behind the phosphorylation of PSII-LHCII proteins (STN7 and STN8) were identified and the knockout mutants of these kinases became available, providing powerful tools to elucidate the physiological role of PSII-LHCII phosphorylation. In my work I have used the stn7 and stn8 mutants in order to clarify the role of PSII-LHCII phosphorylation in regulation and protection of the photosynthetic machinery according to environmental cues. I show that STN7- dependent PSII-LHCII protein phosphorylation is required to balance the excitation energy distribution between PSII and PSI especially under low light intensities when the excitation energy transfer from LHC to PSII and PSI is efficient. This mechanism differs from traditional light quality-induced "state 1" – "state 2" transition and ensures fluent electron transfer from PSII to PSI under low light, yet having highest physiological relevance under fluctuating light intensity. STN8-dependent phosphorylation of PSII proteins, in turn, is required for fluent turn-over of photodamaged PSII complexes and has the highest importance upon prolonged exposure of the photosynthetic apparatus to excess light.