Nocturnal Transcutaneous Carbon Dioxide and Early Changes in Atherosclerosis in Pre- and Postmenopausal Women
Aittokallio, Jenni (2009-11-27)
---
Nocturnal Transcutaneous Carbon Dioxide and Early Changes in Atherosclerosis in Pre- and Postmenopausal Women
(27.11.2009)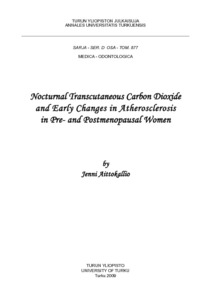 Turun yliopisto
Julkaisun pysyvä osoite on:
https://urn.fi/URN:ISBN:978-951-29-4087-5
Kuvaus
Siirretty Doriasta
Tiivistelmä
The risk of cardiovascular diseases and sleep-disordered breathing increases after menopause. This cross-sectional study focuses on overnight transcutaneous carbon dioxide (TcCO2) measurements and their power to predict changes in the early markers of cardiovascular and metabolic diseases. The endothelial function of the brachial artery, the intima-media thickness of the carotid artery, blood pressure, glycosylated hemoglobin A1C and plasma levels of cholesterols and triglycerides were used as markers of cardiovascular and metabolic diseases.

The study subjects consisted of healthy premenopausal women of 46 years of age and postmenopausal women of 56 years of age.

From wakefulness to sleep, the TcCO2 levels increased more in postmenopausal women than in premenopausal women. In estrogen-users the increase in TcCO2 levels was even more pronounced than in other postmenopausal women. From the dynamic behaviour of the nocturnal TcCO2 signal, several important features were detected. These TcCO2 features had a remarkable role in the prediction of endothelial dysfunction and thickening of the carotid wall in healthy premenopausal women. In addition, these TcCO2 features were linked with blood pressure, lipid profile and glucose balance in postmenopausal women.

The nocturnal TcCO2 profile seems to contain significant information, which is associated with early changes in cardiovascular diseases in middle-aged women. TcCO2 might not only measure the tissue carbon dioxide levels, but the TcCO2 signal variation may also reflect peripheral vasodynamic events caused by increased sympathetic activity during sleep.