Molecular Markers of Oral Lichen Planus
Mattila, Riikka (2009-11-27)
---
Molecular Markers of Oral Lichen Planus
(27.11.2009)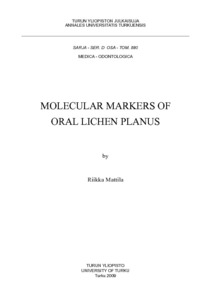 Turun yliopisto
Julkaisun pysyvä osoite on:
https://urn.fi/URN:ISBN:978-951-29-4104-9
Kuvaus
Siirretty Doriasta
Tiivistelmä
Oral lichen planus (OLP) is a chronic inflammatory mucosal disease and is detected in between 0.5% - 2.2% of the population. WHO has defined OLP as a potentially precancerous disorder, representing a generalized state associated with a significantly increased risk of cancer. However, only 0.5 – 2.9% of OLP lesions will progress to cancer. Currently, there are no prognostic markers to identify the lesions at increased risk for malignant transformation. The main aim of these studies was to identify cellular and molecular markers in order to understand the pathogenesis of atrophic OLP and its progression towards malignancy. Selected markers for cell proliferation, adhesion, apoptosis, and lymphocytic infiltration were assessed by immunohistochemistry in addition to static cytometry analyses for DNA content.

DNA quantification of epithelial cells in 82 biopsy samples derived from atrophic lichen planus showed altered DNA content in 41% of the samples. DNA content was associated with proliferation activity, topoisomerase IIalpha, desmocollin-1 and infection with human papillomavirus. CD27+ and CD38+ lymphocytes were detected in inflammatory cell infiltrate, indicating an abnormal homing of B cells from blood circulation to tissue. Physiologic cell death, apoptosis, is frequently seen in OLP, but its pathways are unknown. Here it was shown that caspases 2 and 12 were up-regulated in OLP, indicating that intracellular apoptosis, rather than an external causal factor, is triggering apoptosis. However, this thesis could not identify any singular prognostic marker of malignancy in OLP. Thus, every OLP patient should receive regular follow-up care to identify cancer risk patients at an early stage.