Natural Science in the Bothnian Sea During 1975-2008: A Review
Saikku, Reetta; Alhosalo, Minna; Repka, Sari; Erkkilä, Anne (2009-11-04)
---
Natural Science in the Bothnian Sea During 1975-2008: A Review
Saikku, Reetta
Alhosalo, Minna
Repka, Sari
Erkkilä, Anne
(04.11.2009)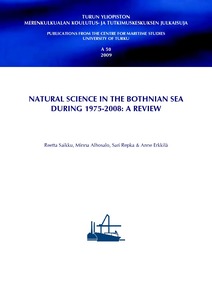 Turun yliopisto
Julkaisun pysyvä osoite on:
https://urn.fi/URN:ISBN:978–951–29–4130–8
Kuvaus
Siirretty Doriasta
Tiivistelmä
The Baltic Sea is one of the most studied areas in the world. However, parts of its northernmost reach, the Bothnian Sea, seem to be under represented in the natural scientific literature compared to other parts of the Baltic. The Bothnian Sea represents a unique inland sea environment for the scientific community to study due to its shallowness and low salinity. The natural sciences research carried out on the Bothnian Sea has been reviewed between 1975 and 2008. This time period was chosen to continue on from an earlier review paper ending in 1974. Along with the number of papers published the goal was also to review the content of the papers, indentifying dominating themes to evaluate gaps in the current knowledge on the Bothnian Sea and provide recommendations for topics of future research focus. In a classification into specific research topics biodiversity was the leading research focus followed by chemical and physical oceanography, pollution and toxins, and fish biology and fisheries. The current good condition of the Bothnian Sea is highly valued with its historically less eutrophic and clearer waters when compared to the Baltic. However, today the Bothnian Sea is facing eutrophication resulting from nutrient-rich water transported by the many rivers draining into it from Sweden and Finland making it an area in need of protection and preservation. More human activity will also concentrate on the Bothnian Sea in the future. Therefore the use of the sea and its coastal areas must be planned carefully to minimize the harmful effects of this increasing human activity. To achieve this more information is needed for the basis of Integrated Coastal Zone Management (ICZM) and maritime spatial planning (MSP). For example, for the Bothnian Sea the information on the underwater nature which is essential for ICZM is so far missing to a large extent. Specific biological, chemical and physical oceanographic information is needed to combine with economic analyses and environmental policies regarding this region. More research of a multidisciplinary nature is required on the unique Bothnian Sea environment and this we feel is best achieved through a joint Finnish-Swedish research strategy.