Probiotic lactobacilli and bifidobacteria in the mouth – in vitro studies on saliva-mediated functions and acid production
Haukioja, Anna (2009-12-04)
---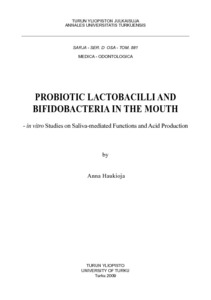 Turun yliopisto
04.12.2009
Julkaisun pysyvä osoite on:
http://urn.fi/URN:ISBN:978-951-29-4115-5
Kuvaus
Siirretty Doriasta
Tiivistelmä
Probiotic lactobacilli and bifidobacteria in the mouth – in vitro studies on saliva-mediated functions and acid production

Probiotics are viable bacteria which, when used in adequate amounts, are beneficial to the health of the host. Although most often related to intestinal health, probiotic bacteria can be found also in the mouth after consumption of products that contain them. This study aimed at evaluating the oral effects of probiotic bacteria already in commercial use.

In a series of in vitro studies, the oral colonisation potential of different probiotic bacteria, their acid production and potential saliva-mediated effects on oral microbial ecology were investigated. The latter included effects on the salivary pellicle, the adhesion of other bacteria, and the activation of the peroxidase system. Streptococcus mutans, Streptococcus gordonii, Aggregatibacter actinomycetemcomitans and Helicobacter pylori were used as bacterial indicators of the studied phenomena.

There were significant differences between the probiotic strains in their colonisation potential. They all were acidogenic, although using different sugars and sugar alcohols. However, their acid production could be inhibited by the peroxidase system. Based on the results, it can be suggested that probiotic bacteria might influence the oral microbiota by different, partly species or strain-specific means. These include the inhibition of bacterial adhesion, modification of the enamel pellicle, antimicrobial activity, and activation of the peroxidase system.

To conclude, probiotic strains differed from each other in their colonisation potential and other oral effects as evaluated in vitro. Both positive and potentially harmful effects were observed, but the significance of the perceived results needs to be further evaluated in vivo.