Mental Health of Expatriates in Finnish Enterprises in Brazil
Duque, Luciana (2009-11-28)
---
Mental Health of Expatriates in Finnish Enterprises in Brazil
(28.11.2009)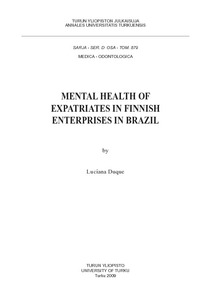 Turun yliopisto
Julkaisun pysyvä osoite on:
https://urn.fi/URN:ISBN:978-951-29-4102-5
Kuvaus
Siirretty Doriasta
Tiivistelmä
Expatriation has become increasingly common due to the global trade expansion. Many large companies base their production facilities in far-flung countries, where experts are sent from their own countries to launch the operations. Working in a foreign environment demands from so-called expatriates considerable adaptability. This study aimed to investigate if following expatriation mental health difficulties were experienced by the employees themselves or their family members.

This study investigated by a questionnaire and interviews how expatriate employees in Finnish companies operating in different regions of Brazil and their families adjusted. Investigated employees were required to be at least 6 months in expatriation. Data were collected in Brazil during their stay at least 3 months after the arrival. The survey covered 121 expatriate employees, that operated in 17 different companies, from which 71 employees from 10 different companies responded to the questionnaire. All the employees from the two largest enterprises and their spouses were invited to focus groups; in total 43 persons (22 employees and 21 employees' spouses) participated in a group or individual interviews.

No significant mental health difficulties were found among the expatriate employees. Only a tenth of the expatriate employees reported strain. The experience of strain symptoms was found to be related to long working days, intense working rhythm and lack of friends. Work satisfaction seemed to be an important mediator in the coping process. While abroad, the expatriate employees were highly recognized for their work.
Due to the immature organization of work they could often use their creative capacities to improve the work flow. The opportunity to see the effects of their own contribution with their own eyes to the development of the enterprise made them feel good.

The association between the expatriate employees' adjustment and that of their spouses' was evident. The spouses' situation was markedly different than that of the expatriate employees' themselves. Expatriation changed the family members' previous division of tasks considerably. The expatriate spouses had to change their roles more than the expatriate employees themselves; since most of them were highly educated women, who were leaded through an identity crisis due to at least temporary renunciation of own work and career.