The Importance of Semantics: Visual World Studies on Drawing Inferences and Resolving Anaphors
Pyykkönen, Pirita (2009-12-12)
---
The Importance of Semantics: Visual World Studies on Drawing Inferences and Resolving Anaphors
(12.12.2009)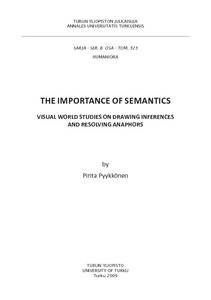 Turun yliopisto
Julkaisun pysyvä osoite on:
https://urn.fi/URN:ISBN:978-951-29-4111-7
Kuvaus
Siirretty Doriasta
Tiivistelmä
The present thesis investigated the importance of semantics in generating inferences during discourse processing. Three aspects of semantics, gender stereotypes, implicit causality information and proto-role properties, were used to investigate whether semantics is activated elaboratively during discourse comprehension and what its relative importance is in backward inferencing compared to discourse/structural cues. Visual world eye-tracking studies revealed that semantics plays an important role in both backward and forward inferencing: Gender stereotypes and implicit causality information is activated elaboratively during online discourse comprehension. Moreover, gender stereotypes, implicit causality and proto-role properties of verbs are all used in backward inferencing. Importantly, the studies demonstrated that semantic cues are weighed against discourse/structural cues. When the structural cues consist of a combination of cues that have been independently shown to be important in backward inferencing, semantic effects may be masked, whereas when the structural cues consist of a combination of fewer prominent cues, semantics can have an earlier effect than structural factors in pronoun resolution. In addition, the type of inference matters, too: During anaphoric inferencing semantics has a prominent role, while discourse/structural salience attains more prominence during non-anaphoric inferencing. Finally, semantics exhibits a strong role in inviting new inferences to revise earlier made inferences even in the case the additional inference is not needed to establish coherence in discourse. The findings are generally in line with the Mental Model approaches. Two extended model versions are presented that incorporate the current findings into the earlier literature. These models allow both forward and backward inferencing to occur at any given moment during the course of processing; they also allow semantic and discourse/structural cues to contribute to both of these processes. However, while the Mental Model 1 does not assume interactions between semantic and discourse/structural factors in forward inferencing, the Mental Model 2 does assume such a link.