Multi-Eruption Solar Energetic Particle Events Observed by SOHO/ERNE
Al-Sawad, Amjad (2009-12-18)
---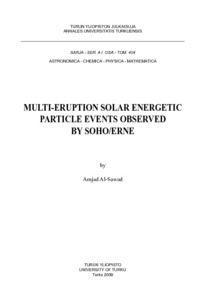 Turun yliopisto Annales Universitatis Turkuensis A I 404
18.12.2009
Julkaisun pysyvä osoite on:
http://urn.fi/URN:ISBN:978-951-29-4166-7
Kuvaus
Siirretty Doriasta
Tiivistelmä
In the last two decades of studying the Solar Energetic Particle (SEP) phenomenon, intensive emphasis has been put on how and when and where these SEPs are injected into interplanetary space. It is well known that SEPs are related to solar flares and CMEs. However, the role of each in the acceleration of SEPs has been under debate since the major role was taken from flares ascribed to CMEs step by step after the skylab mission, which started the era of CME spaceborn observations. Since then, the shock wave generated by powerful CMEs in between 2-5 solar radii is considered the major accelerator. The current paradigm interprets the prolonged proton intensity-time profile in gradual SEP events as a direct effect of accelerated SEPs by shock wave propagating in the interplanetary medium. Thus the powerful CME is thought of as a starter for the acceleration and its shock wave as a continuing accelerator to result in such an intensity-time profile. Generally it is believed that a single powerful CME which might or might not be associated with a flare is always the reason behind such gradual events.

In this work we use the Energetic and Relativistic Nucleus and Electrons ERNE instrument on board Solar and Heliospheric Observatory SOHO to present an empirical study to show the possibility of multiple accelerations in SEP events. In the beginning we found 18 double-peaked SEP events by examining 88 SEP events. The peaks in the
intensity-time profile were separated by 3-24 hours. We divided the SEP events according to possible multiple acceleration into four groups and in one of these groups we find evidence for multiple acceleration in velocity dispersion and change in the abundance ratio associated at transition to the second peak. Then we explored the intensity-time profiles of all SEP events during solar cycle 23 and found that most of the SEP events are associated with multiple eruptions at the Sun and we call those events as Multi-Eruption Solar Energetic Particles (MESEP) events. We use the data available by Large Angle and Spectrometric Coronograph LASCO on board SOHO to determine the CME associated with such events and YOHKOH and GOES satellites data to determine the flare associated with such events. We found four types of MESEP according to the appearance of the peaks in the intensity-time profile in large variation of energy levels. We found that it is not possible to determine whether the peaks are related to an eruption at the Sun or not, only by examining the anisotropy flux, He/p ratio and velocity dispersion. Then we chose a rare event in which there is evidence of SEP acceleration from behind previous CME. This work resulted in a conclusion which is inconsistent with the current SEP paradigm. Then we discovered through examining another MESEP event, that energetic particles accelerated by a second CME can penetrate a previous CME-driven decelerating shock. Finally, we report the previous two MESEP events with new two events and find a common basis for second CME SEPs penetrating previous decelerating shocks. This phenomenon is reported for the first time and expected to have significant impact on modification of the current paradigm of the solar energetic particle events.