Interleukin-4 induced leukocyte differentiation
Ahlfors, Helena (2010-01-08)
---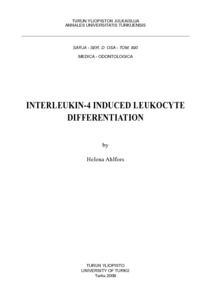 Turun yliopisto
08.01.2010
Julkaisun pysyvä osoite on:
http://urn.fi/URN:ISBN:978-951-29-4184-1
Kuvaus
Siirretty Doriasta
Tiivistelmä
Monocytes, macrophages and dendritic cells (DCs) are important mediators of innate immune system, whereas T lymphocytes are the effector cells of adaptive immune responses. DCs play a crucial role in bridging innate and adaptive immunity. Naïve CD4+ Th progenitors (Thp) differentiate to functionally distinct effector T cell subsets including Th1, Th2 and Th17 cells, which while being responsible for specific immune functions have also been implicated in pathological responses, such as autoimmunity, asthma and allergy. The main objective of this thesis is to dissect the signalling networks involved in the IL-4 induced differentiation of two important leukocyte subtypes, Th2 cells and DCs. Gene expression profiling lead to identification of over 200 genes which are differentially expressed during cytokine induced differentiation of human monocytes to DCs or macrophages and which are likely to be essential for the proper biological functions of these cell types. Transcriptome analysis demonstrated the dynamic regulation of gene expression by IL-12 and IL-4 during the initiation of Th cell differentiation, which was partly counteracted by an immunosuppressive cytokine, TGFβ, present in the culture media. Results from RNAi mediated gene knockdown experiments and global gene expression analysis elucidated that SATB1 regulates multiple genes important for Th cell polarization or function as well as may compete with GATA3 for the reciprocal regulation of IL-5 transcription. In conclusion, the results obtained have extended our system-level understanding of the immune cell differentiation processes and provide an excellent basis for the further functional studies which could lead to development of improved therapeutic approaches for a range of immunological conditions.