Orthotopic PC-3 Tumor Xenografts in Studies on Prostate Cancer Growth and Metastasis
Tuomela, Johanna (2010-01-15)
---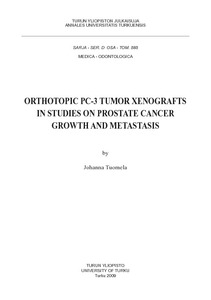 Turun yliopisto
15.01.2010
Julkaisun pysyvä osoite on:
http://urn.fi/URN:ISBN:978-951-29-4176-6
Kuvaus
Siirretty Doriasta
Tiivistelmä
Prostate cancer is generally a slowly developing disease. However, some cancers develop into an aggressive, metastasic and consequently life-threatening state. The mechanisms of prostate cancer spread are still mainly unidentified but hormones and growth factors are known to been involved. The forming of new blood vessels i.e. angiogenesis is crucial for tumor growth. Blood vessels and lymphatic vessels are also prominent routes for metastasis. Both angiogenic and lymphangiogenic factors are overexpressed in prostate cancer. We established an in vivo model to study the factors effecting human prostate cancer growth and metastasis. Tumors were produced by the orthotopic inoculation of PC-3 prostate cancer cells into the prostates of immunodeficient mice. Like human prostate tumors, these tumors metastasized to prostate-draining lymph nodes. Treatment of the mice with the bisphosphonate alendronate known to decrease prostate cancer cell invasion in vitro inhibited metastasis and decreased tumor growth. Decreased tumor growth was associated with decreased angiogenesis and increased apoptosis of tumor cells. To elucidate the role of angiogenesis in prostate cancer progression, we studied the growth of orthotopic PC-3 tumors overexpressing fibroblast growth factor b (FGF8b) known to be expressed in human prostate cancer. FGF8b increased tumor growth and angiogenesis, which were both associated with a characteristic gene expression pattern. To study the role of lymphangiogenesis, we produced orthotopic PC-3 tumors overexpressing vascular endothelial growth factor C (VEGF-C). Blocking of VEGF-C receptor (VEGFR3) completely inhibited lymph node metastasis whereas overexpression of VEGF-C increased tumor growth and angiogenesis. VEGF-C also increased lung metastases but, surprisingly, decreased spread to lymph nodes. This suggests that the expanded vascular network was primarily used as a route for tumor spreading. Finally, the functionality of the capillary network in subcutaneous FGF8b-overexpressing PC-3 tumors was compared to that of tumors overexpressing VEGF. Both tumors showed angiogenic morphology and grew faster than control tumors. However, FGF8b tumors were hypoxic and their perfusion and oxygenation was poor compared with VEGF tumors. This suggests that the growth advantage of FGF8b tumors is more likely due to stimulated proliferation than effective angiogenesis. In conclusion, these results show that orthotopic prostate tumors provide a useful model to explore the mechanisms of prostate cancer growth and metastasis.